The Chinese car market is still young and very wild. Many people are genuinely proud they can afford a vehicle and they genuinely love to show that off. Wrapping is very popular, the more outrageous the colors the better. Today's main trends are wrapping in bling and in Pink. I like the latter more.
I have been following the Pink car wrapping scene for ages and this is my Top Ten. I am working with a system that rewards points for the quality of the wrap and for the trinity score; a wrap is full perfect if it covers three parts of the car besides the body: the bumpers, the mirrors, and the door handles.
Quality is qualified as: good, perfect, and brilliant (there are no bad wraps, really). The trinity score is qualified as: 1/3, 2/3, or 3/3.
Here we go:
10. Camaro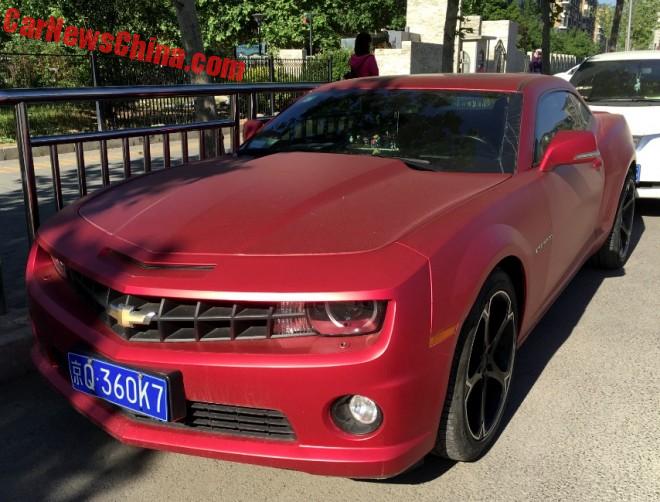 Wrap Quality: perfect. Trinity Score: 3/3.
A pony car in pink, what could one wish more for lazy highway cruiser..? The wrap hold various shades of pink, and the good Camaro complements that with pink headlight visors and the largest pink mirrors the world has ever seen. Would have ended up higher with shiny wheels, in either gold or silver.
9. Volkswagen Scirocco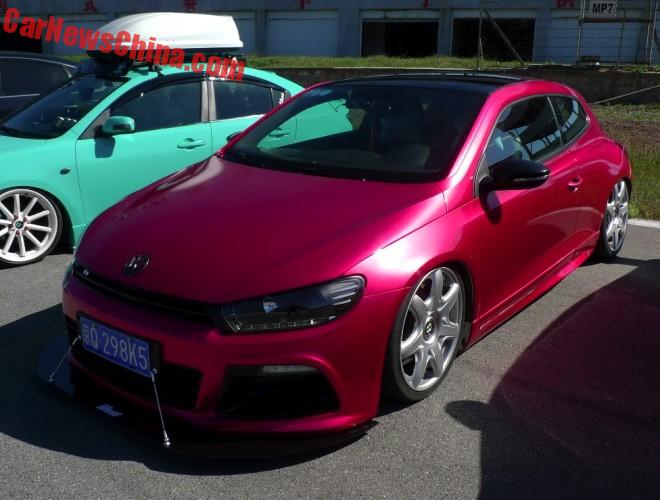 Wrap Quality: brilliant. Trinity Score: 2/3.
Seen on a tuning show and likely the best quality wrap of this Top Ten. It has an ultra low front spoiler, suspension lowered right down to the street, and alloys with a Bentley logo on them. The Scirocco has long been a popular car in the Chinese tuning scene, but this pinker is the best by far.
8. Land Rover Defender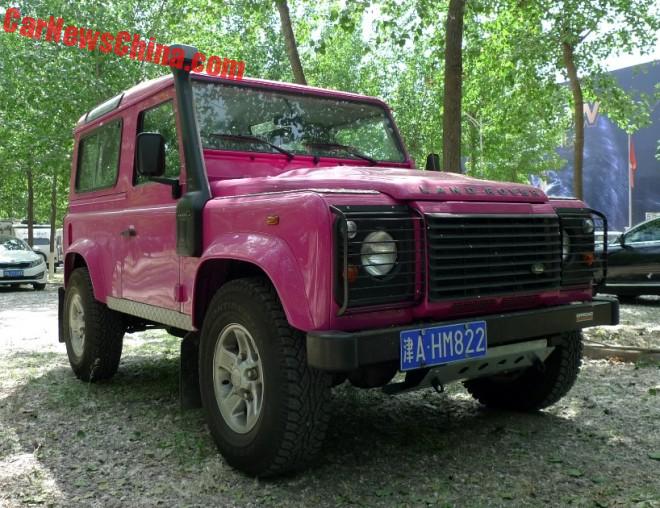 Wrap Quality: good. Trinity Score: 0/3.
The ultimate man's car in a very man's color, pink to the jungle baby! This rough 'n ready tree-door Defender looks great in this softer tone of pink, and it was made even better with the contrasting black chimney and grille, and the Land Rover lettering on the bonnet is in style too.
7: Jeep Wrangler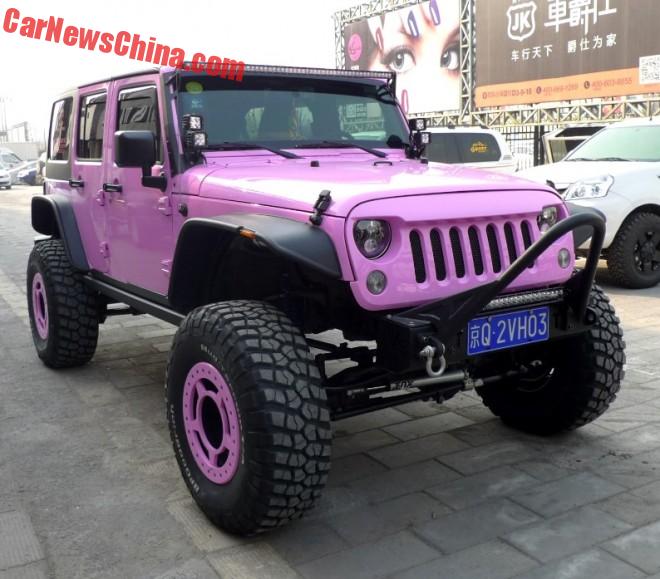 Wrap Quality: perfect. Trinity Score: 0/3.
The ultimate American man's car, the Jeep Wrangler is wrapped in an even softer pink than the Defender. It looks otherwise ready for lonely deserts; a big bull bar, raised suspension, a light bar above the windshield, and giant off road tires with pink wheel covers.
6. Shengxing Panda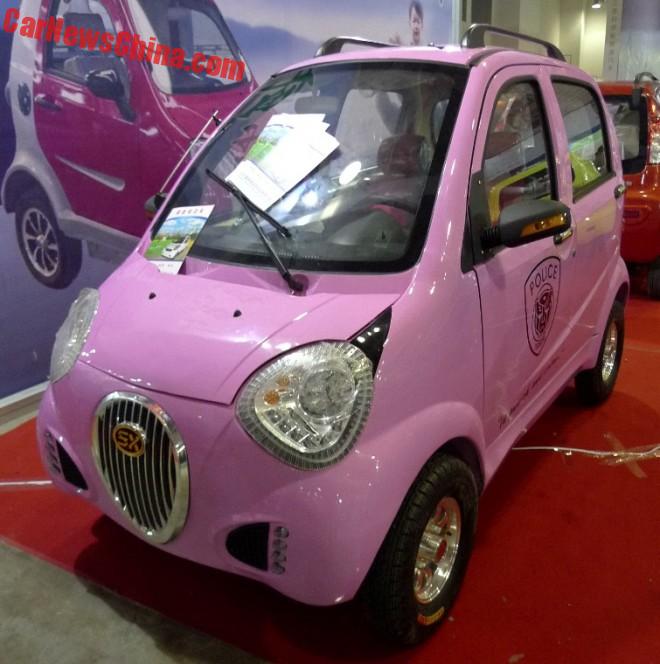 Wrap Quality: good. Trinity Score: 1/3.
All pandas should be pink! The Shengxing Panda is a low-speed electric vehicle (LSEV), it can't ride the highway but it makes more than up for that with pure pink presence, and with a classy classic grille. Top speed is a hefty 48 kilometer per hour, and it still needs only one windshield wiper.
5. Toyota Reiz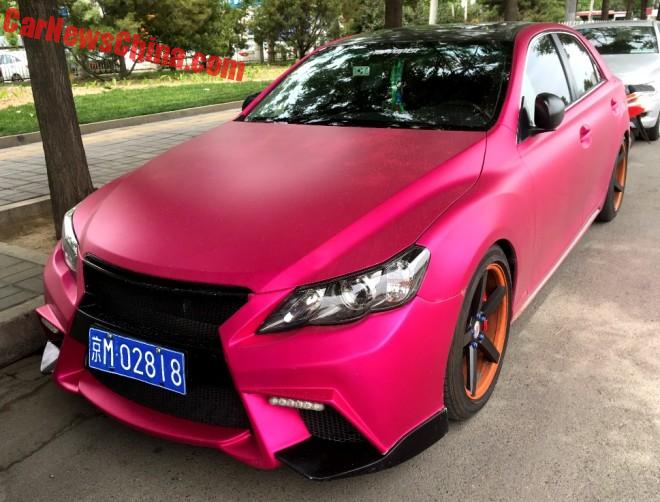 Wrap Quality: perfect. Trinity Score: 2/3.
This Japanese sedan shows the essence of pink speed, looking fast even when standing still. The Reiz is a hot rear-wheel drive sedan with steaming engines, better known as the Toyota Mark X in most markets. This great example is dressed up with a Lexus grille and orange wheels.
4. Ferrari California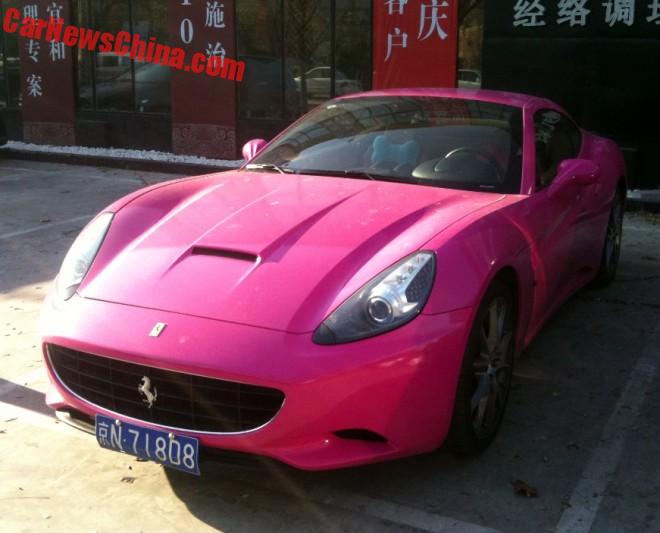 Wrap Quality: brilliant. Trinity Score: 3/3.
When it comes to pink cars you got to have the Ferrari the California. If there ever was one car that was born to be pink, well, this is it. Shiny to the max and a full trinity. But the best things are inside. Check those extra headrest pillows; the left one in blue and the right one in… pink!
3. Hyundai ix35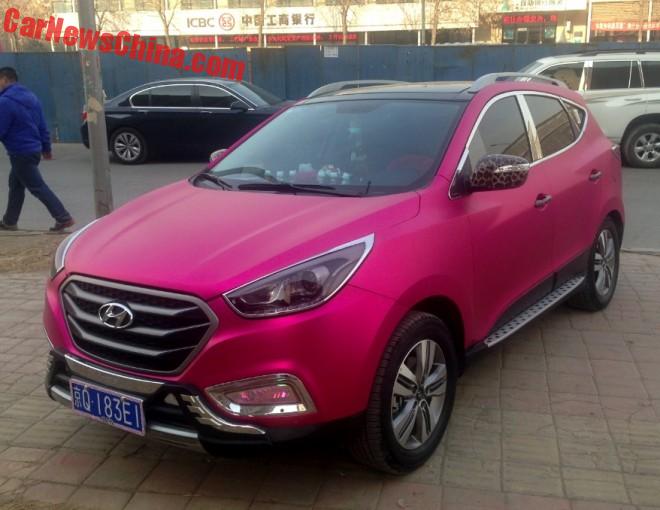 Wrap Quality: perfect. Trinity Score: 1/3.
I found this pink beauty near my home. A lot of work went in it: pink fog lights with chrome rims, tiger print mirrors, matte gray roof rails, and a whole Hello Kitty family behind the windscreen. This was on a gray winter's day, and the ix35 just sucked all the light away.
2. Mercedes-Benz C-Class L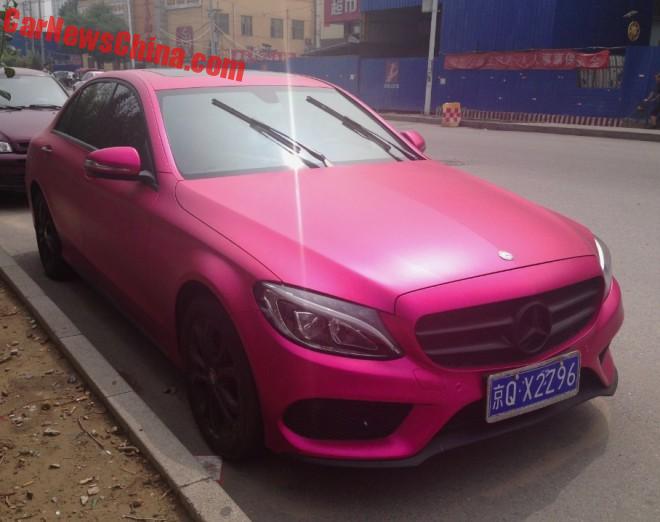 Wrap Quality: perfect. Trinity Score: 3/3.
The C-Class L, a long-wheel base variant of the regular C, came close to victory. Car and wrap are picture pink perfect and the black wheels match the color of the darkened windows. It is just that… a pink Mercedes is a tad too common. My winner is not:
1. Citroen C5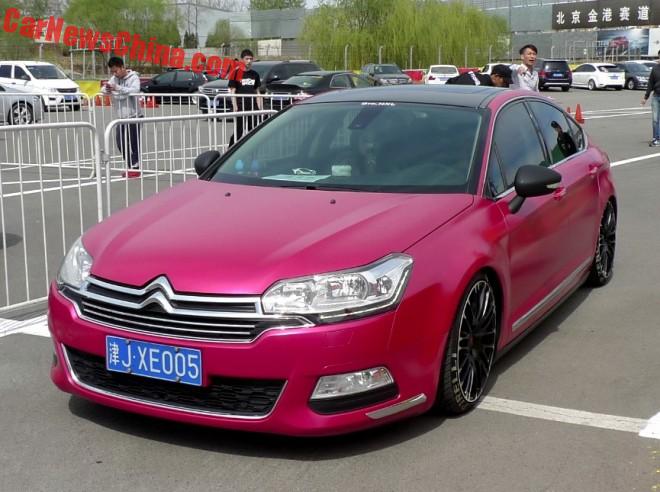 Wrap Quality: brilliant. Trinity Score: 2/3.
The Citroen C5 wins. It is very rare to see the C5 modified or wrapped but this one has it all; lowered suspension, big black wheels, and a shiny dark pink wrap. Pink does the soft French lines many good, creating a classic on the spot. Chrome is shiny to the max and black mirrors match with black wheels. Sadly, they don't match with the roof, which is of a lighter kind of black. You just cannot have it all.