A plastic surgery clinic in the great city of Taiyuan in China's Hebei Province had a great idea to sell more noses and tits: hire a bunch of musicians in wuzzy suits and put them behind a display of supercars and half naked body-painted little ladies. On a red carpet, of course.
The clinic is called 'Leader'. They got franchises here in Beijing too, but sadly without red haired ladies wearing white undies. The wildest thing I have seen here are doors decorated with plastic pink flowers and the such. Taiyuan got it better: body paint for a bad Porsche, breaking down buildings from the top-down, cartoon policemen, and nice little holes in the road. So much excitement. I got to move there.
The tactic worked. The clinic got a lot of attention, primarily from females it seems, which is even better, as they are the intended target group. They all need bigger this and smaller that. Marketing stunts like this are technically not forbidden in China as long as there is no nipple in sight but authorities can end the fun at any moment when they feel social order is being disturbed.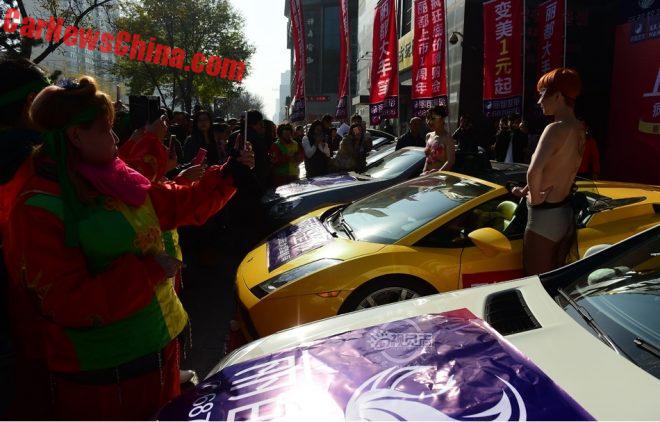 Happily, the social order was apparently safe in Taiyuan. The girls look sweet and the cars look fast. We count two Mercedes-Benz convertibles and one Lamborghini Gallardo Spider. But! That lady on the left is one of the musicians. Get back behind the cars you lazy ass!