The Beijing Auto ArcFox-1 EV concept was launched on the 2016 Guangzhou Auto Show in China, looking great with lots of orange stickers, orange badges and orange wheels. But best are the E-RACING decals on the doors. This ArcFox-1 concept is the closed-roof version of the earlier ArcFox-1 City Car Concept.
ArcFox is a new EV brand under BJEV, the electric-vehicle division of the Beijing Auto Industry Corporation (BAIC), commonly know as Beijing Auto.
ArcFox as a brand is aimed at young people in big cities, hence all the cool colors and such. There will also be car sharing schemes and lots of apps to download.
During the show ArcFox also confirmed once more they will really make a small series of the ArcFox-7 electric supercar.
The ArcFox-1 will be launched next year. We have seen it testing on the road. It will be powered by an electric motor with about 40 horsepower. Range will be 200 kilometers. It will seat just two. The doors of the concept were closed but we have seen the interior on a spy shot.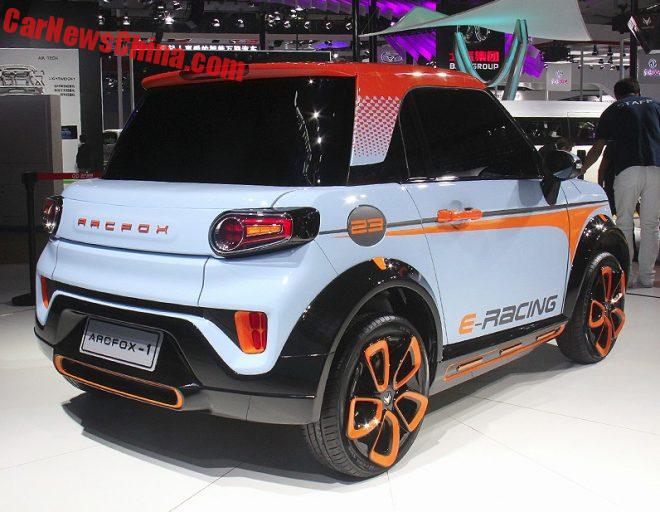 The closed-roof ArcFox-1 is closely related to the 2015 Beijing Auto EX concept. The EX had a bubble roof and was slightly smaller. The EX in turn was based on the Italian Tazzari Zero electric mini car.
After I posted the post about the EX I was contacted by email by Tazzari, with them saying, somewhat oddly: "the dual airbags on- board should be available for late 2016". And nothing more, that was all they said. Intrigued, I wrote back asking for more information about their cooperation with Beijing Auto, just to get a short reply "we prefer to not disclose any information at this time". I have contacted them again but heard nothing back.
Nobody on the booth in Guangzhou had heard of Tazzari, so I assume there is no cooperation anymore. The ArcFox-1 is bigger than the EX/Zero and details differ, but they still look very much alike.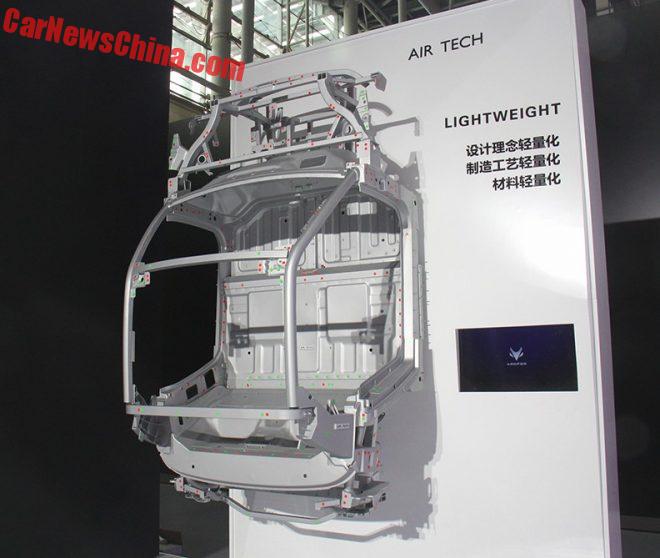 ArcFox made a lot out of their lightweight frame and body, calling it 'Air Tech'. They said: the frame is made of aluminum alloy, the body from carbon fiber reinforced composite, and the body panels from plastic. They claim a total weight saving of 40%. They also said that the dashboard, which they didn't show, was made out of a magnesium alloy tube beam, saving 30% weight compared with a standard dash. They said these technologies are derived from racing technology.
It all sounds very impressive, albeit a bit confusing, and it also seems a tad too expensive-high tech for a city car that is supposed to be relatively cheap; it has to compete with Smart and the like. Costs will of course go down if they can mass produce it and find enough buyers. The lightweight technology will enlarge range and speed, so that might be attractive. Pricing will be everything here.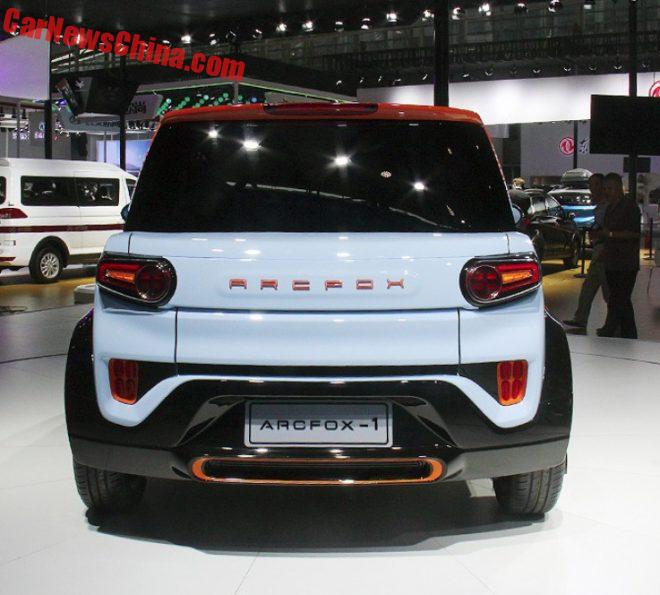 ARCFOX in orange. Orange air vent under the license plate, orange panels for the fog lights, and orange lights in the light units. It also has an orange roof.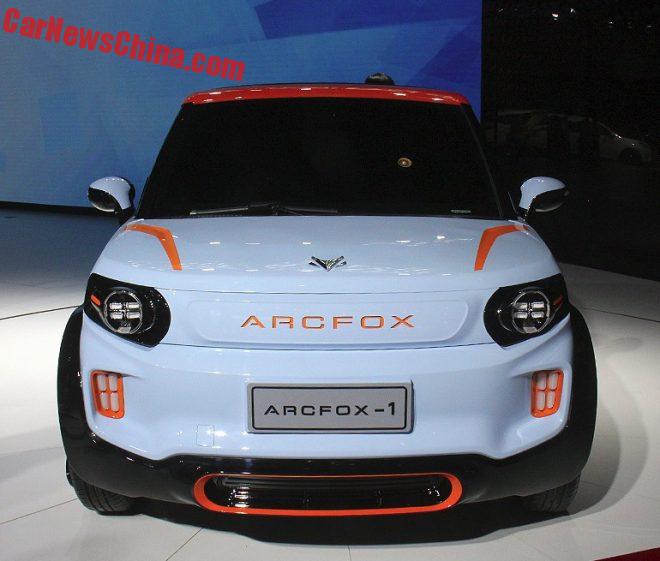 ArcFox logo on the bonnet, depicting the head of an arctic fox.