The Hongqi H9 is a stately Chinese limousine, available in standard en very long wheelbase. The H9 is a striking car with an enormous shiny grille, shiny wheels, and two tone paint.
The Hongqi H9 sedan was launched on the Chinese car market in August 2020. The H9 is made in Hongqi's main Chinese factory in Changchun, capital of China's northeastern Jilin Province.
It is a large car, measuring 5080/1904/1493, with a 3060 millimeter wheelbase and a curb weight of 1875 kilo. The Hongqi H9 stands on a unique rear-wheel drive platform.
At the moment, the Hongqi H9 is available with two engines: a 255 hp 2.0 turbo and a 283 hp supercharged V6. Both engines are mated to a seven-speed DCT. The 2.0 is really a tad too small for a big car like the Hongqi H9 and the 3.0 supercharged is a bit old-school. So Hongqi has added a third engine to the lineup.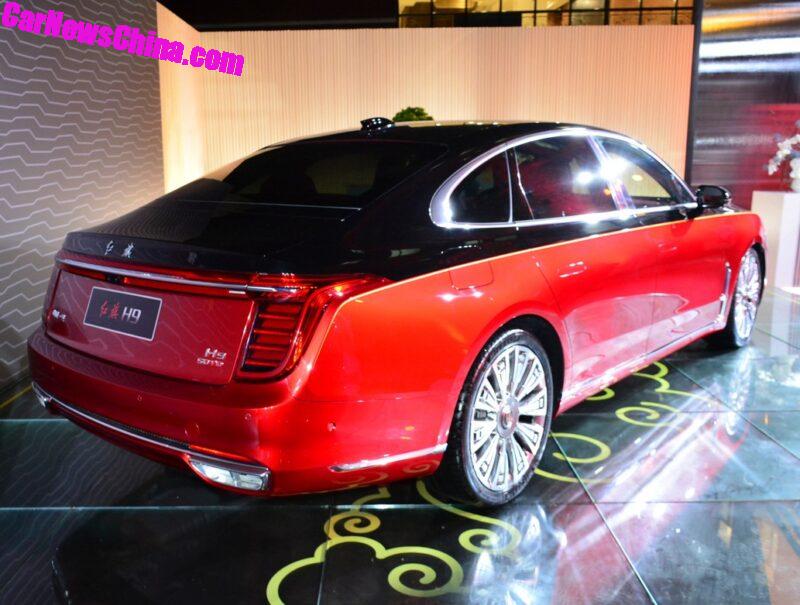 The new motor is a turbocharged 2.5 liter V6 designated CA6GV25TB. It was  developed by First Auto Works (FAW), the parent company of Hongqi.
In the past, FAW always relied on sourcing engines for the Hongqi brand, buying motors from, among others, Volkswagen, Audi, Nissan, Toyota, and Ford. Recently, however, FAW has been developing their own engines, although some of those are still based on older designs of other brands. The new 2.5 liter turbocharged V6 engine has an output of 276 hp, good for a speedy top speed of 230 kilometers per hour.
Fuel consumption is a hefty 9 liters per 100 kilometers, which, somewhat oddly, is exactly the same number as the 3.0 supercharged V6 engine. The new engine will be used in other Hongqi's as well, and for top-end cars of the Bestune brand. Price for the Hongqi H9 2.5T will start around 400.000 yuan ($61.700), right in the middle between the 2.0 turbo and the 3.0 supercharged V6.