Changan Lumin Corn is a small EV under Avatr Technology. Its images and specs have been revealed by Chinese MIIT recently. We also have managed to find interior spy shots of this tiny vehicle. So let's get acquainted with the Changan Lumin Corn.
What is Changan Lumin?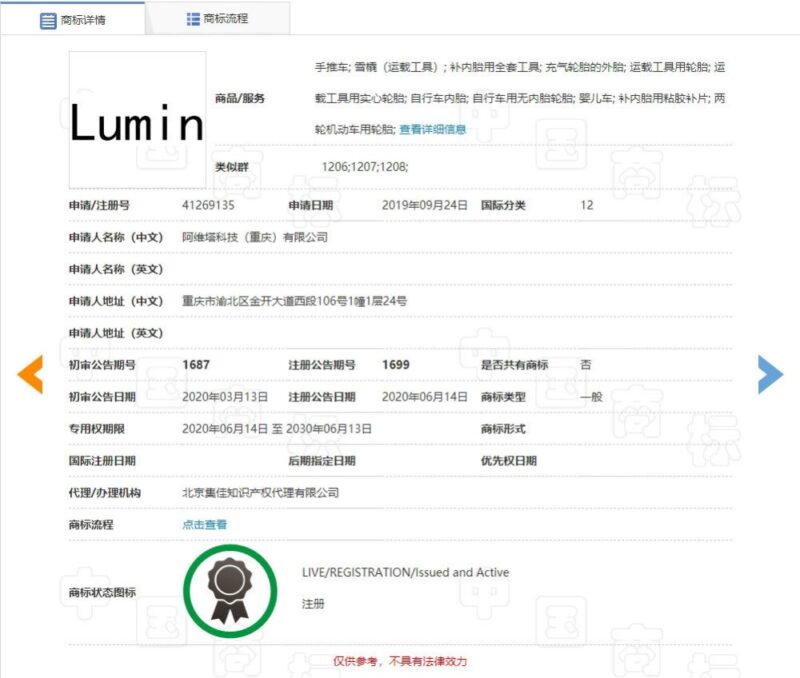 According to the documents, Lumin is a brand under Avatr Technology. Avatr Technology itself is a JV between Changan and CATL. Huawei is also involved in the Avatr project but hasn't got any shares. So Lumin also may be a joint project between Changan New Energy, CATL, and Huawei. Funnily, the new brand may also be involved in producing tires for cars and bicycles, according to the documents. Chinese media speculate that Lumin is a brand, but it isn't sure for now. It can become a sub-brand or a line. Changan itself hasn't announced Lumin's position on the market yet.
What is Changan Lumin Corn?
Previously, the Changan Lumin Corn was known as the A158. It is based on Changan's EPA0 platform, designed for hatchbacks and city cars. The name "Corn" translates from Chinese 糯玉米 (Nuoyumi). The Lumin Corn is a two-door EV with four seats. It has a pleasing look with a rounded shape, circular LED lights, and pop-out door handles. Standard door handles are also available.
The dimensions of the Lumin Corn are 3270/1700/1545 mm with a wheelbase of 1980 mm. So it is a small car that also has small 165/70 R14 wheels. The Lumin Corn has decent approach and departure angles of 21 and 28 degrees, thanks to its small bumpers.
The Lumin Corn has two versions with different power outputs. The first one got an output of 30 kW (41 hp). And the second one generates a power of 35 kW (48 hp). The Lumin Corn with more horses weighs 945 kg – 105 kg heavier than the version with a less powerful motor. Another difference between the two versions is the battery. The Lumin Corn with 30 kW has the LFP battery supplied by Gotion Hightech, and the one with 35 kW got the LFP battery from CATL. According to Chinese media, there will be two versions of the Lumin with 150 km and 210 km range. These versions both have a top speed limited to 101 km/h.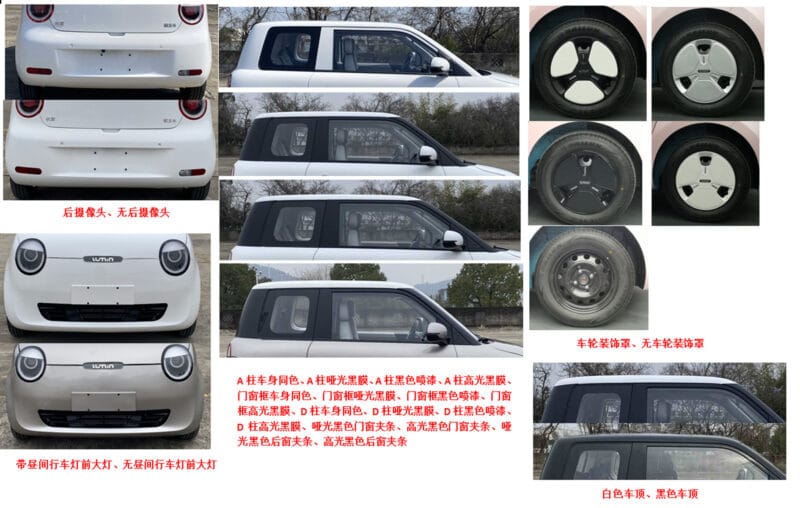 According to MIIT, you can get rid of a lot of stuff here to make this car cheaper. There is a version without running lights, a rearview camera, wheel caps, etc. So this car will probably play in an extensive segment.
Changan has also shared some official images of Lumin Corn. It has got various colors. Some have lovely names like "Fog White", or "Light Blue". But others are just quirky, like "Magpie Gray", or "Wheat Yellow".
Changan Lumin Interior
There are some spy shots of the Changan Lumin Corn's interior. But a lot of them are of bad quality. We were lucky to find some screenshots from an online translation via the TikTok app, where some guy has shown the Lumin Corn's interior. We can see the three-spoke steering wheel with a flat bottom in these shots. It is funny that a car with a top speed of 101 km/h got that sporty-looking wheel. There is "LUMIN" lettering on the steering. Behind the wheel, we can see a digital dashboard. It says that Lumin Corn can run up to 186 km with a 93% battery charge.
The center tunnel is tiny and has a rotary gear shifter, window switches, etc. There are practical physical buttons for climate control on the center panel. As for the main screen, it also says "LUMIN" and is pretty simple. There isn't any Changan badge inside it. So we can sum up that Lumin might be a detached brand.
There is also an official video from the Changan brand. In it, we can see that the Lumin Corn's center tunnel has a single cup holder. The second row of seats can be folded flat. But the trunk itself is still small.
Changan Lumin Competitors
The Changan Lumin Corn is quite large in comparison with the Wuling Hongguang Mini EV. The Lumin Corn is 353 mm longer, 207 mm wider, and 76 mm lower. But these two cars still play in the same city cars segment. The same goes with other micro EVs like the Chery QQ Ice Cream, Baojun KiWi EV, etc. It seems like the Chery eQ1 (Ant) is the closest rival to the Changan Lumin Corn. The eQ1 has almost the same dimensions, two doors, and a 30 kW electric motor.
The Changan Lumin Corn is a nice-looking small EV that soon hit the Chinese Market. It can become trendy among Chinese buyers, so that we will follow this car with great attention. Stay tuned!
Source: MIIT, Changan Weibo, Weibo汽车拍客阿睿, Autohome