The Changan Lumin Corn was officially presented in China. It is a tiny electric vehicle aimed at Wuling Mini EV, Chery QQ Ice Cream, and other city-cars. The top trim level has a 28 kWh battery good for 301km range. This segment has grown tremendously in a few years, and Changan and CATL want to rock it with the Lumin Corn.
What is Changan Lumin Corn?
The Changan Lumin Corn is an all-electric city car from Changan New Energy and CATL. Technically, the Lumin is under Avatr Technology. Some Chinese media used to call it a brand, but we are not sure if it is a sub-brand, or if it is a line. Anyway, the Lumin Corn (Chinese: 糯玉米) is here, so let's get acquainted with it.
The Lumin Corn is based on Changan's EPA0 platform, designed for hatchbacks and city cars. It is a two-door EV with four seats. The dimensions of this EV are 3270/1700/1545 mm with a wheelbase of 1980 mm. When the Lumin Corn will be launched, it will have two versions with LFP batteries of 12.92 kWh and 17.65 kWh capacity. Their range is between 155 km and 210 km. Later, the Lumin Corn with a 27.99 kWh battery for a 301 km range will be available. It has a single electric motor (FWD) for 30 kW (41 hp). Later, the 35 kW (48 hp) motor will also be available.
Changan Lumin Corn Exterior
We have seen the Lumin Corn's exterior several times. At first, Chinese MIIT shared its images and specs. Later, the Lumin Corn was unveiled in official images. And now Changan has officially presented this tiny EV. It stays in line with previous images. The Lumin Corn has a pleasing look with a rounded shape, circular LED lights, and pop-out door handles.
The presented Lumin Corn has only AC charging port (GB/T). Bearing in mind the small battery capacity of the Lumin Corn, it is an understandable decision. This EV's wheels are covered with aerodynamic covers. By the way, the Lumin's wheel size is 165/70 R14.
Changan Lumin Corn Interior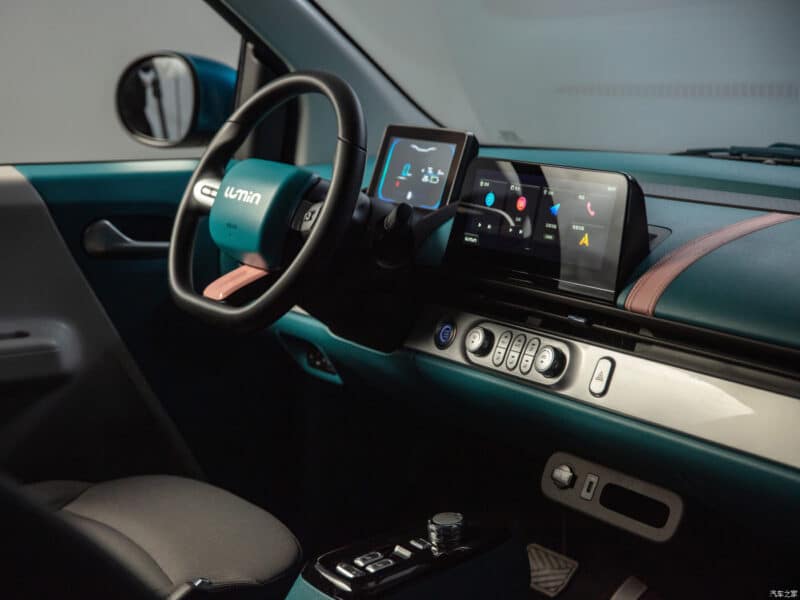 The interior of the Lumin Corn was also shown before its official debut. But now we can have a closer look at its details. And believe us – there are a lot of these.
Let's start with the center console. It has a floating 10.25-inch touch screen with pretty and simple graphics. It has navigation, phone, music, radio, and autonomous driving functions. There are hazard lights, engine Start/Stop buttons, as well as the block for climate control. And lower, the USB port and 12V charger are located.
The steering wheel is extremely sporty for a city-car with only 41 hp. It has three spokes and a flat bottom. By the way, the steering lower spoke looks strangely wide, and it reminds a dog's tongue in pink color. Anyway, behind the steering wheel sits the instrument panel. It is small and its graphics have got some old school vibes. In the photo, we can see that the instrument panel shows speed, battery charge, range, and energy consumption rate. But we think it should be customizable.
The center tunnel has a rotary gear shifter and even a button for selecting a driving mode. We can see there are actually only two modes: Eco (E) and Sport (S). There are also window switches and door locks.
The Changan Lumi Corn's seats look good with fine fabrics. They can be adjusted only manually. The Lumin's second row has a bench for two people. It also seems to have ISOfix fixing points. The Lumin Corn's trunk has a capacity of 104 L with the second row folded.
Changan Lumin Corn Launch Date and Warranty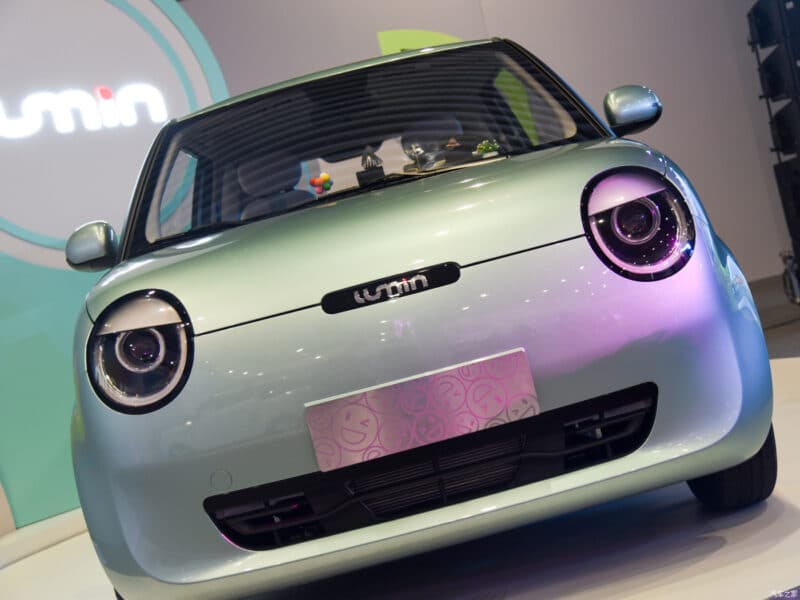 According to Changan, the Lumin Corn has a 3-year or 120,000-km warranty in China. As for the electric system, it has a warranty for 8 years or 120,000 km. The Lumin Corn will be launched on the Chinese market in the H2 2022. We will keep an eye on this interesting and quirky vehicle, so stay tuned!
Source: Autohome, Changan Weibo