The stunning Buick Electra-X SUV concept has been revealed at the brand's China Brand Day.
A statement car from one of the US's most well-known brands in China, the Electra-X SUV previews a raft of new electric models coming to China by 2025.
Conceived by the General Motors PATAC engineering and design team in Shanghai, the car displays Buick's commitment to China and electric mobility.
It's a far cry from the Buick Enspire electric concept from 2018 which 'enspired' not very much at all.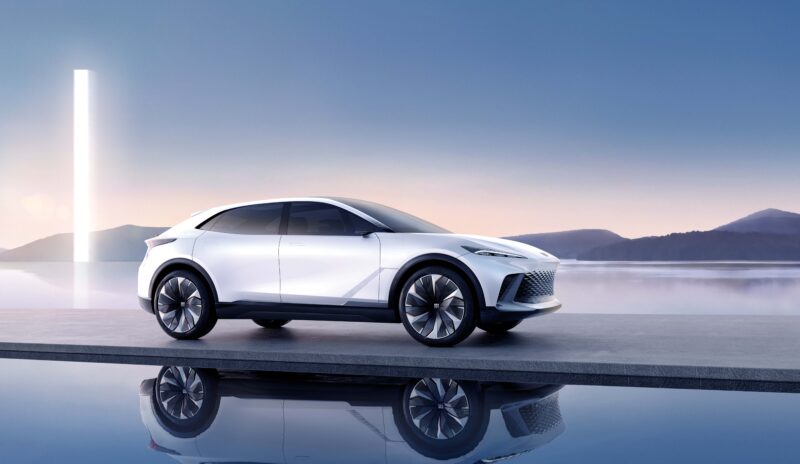 Bold New Beginnings
The Buick Electra-X, not to be mistaken with the Lotus Eletre, carries a lot of weight on its broad and attractive haunches. In essence, it is the starting point of Buick's entire EV efforts going forwards.
Decked out in a satin-white metallic paint, the wide grille and large wheels give the Electra-X a purposeful stance. Elsewhere, subtle and taut surface treatment add a healthy dose of elegance to the mix.
Its design follows Buick's PURE Design philosophy and supposedly builds on the brand's existing styling. In all honesty you'll struggle to find any of Buick's existing styling in the Electra-X, but that's no bad thing.
Matt Noone, executive director of SAIC-GM PATAC Design, said: "Buick is well known across China for its beautiful styling. The Electra-X will be a significant game-changer for Buick in offering products that are not only electric but also sporty and attractive to younger customers". He added that many of the design elements from the concept will make it on to future production models.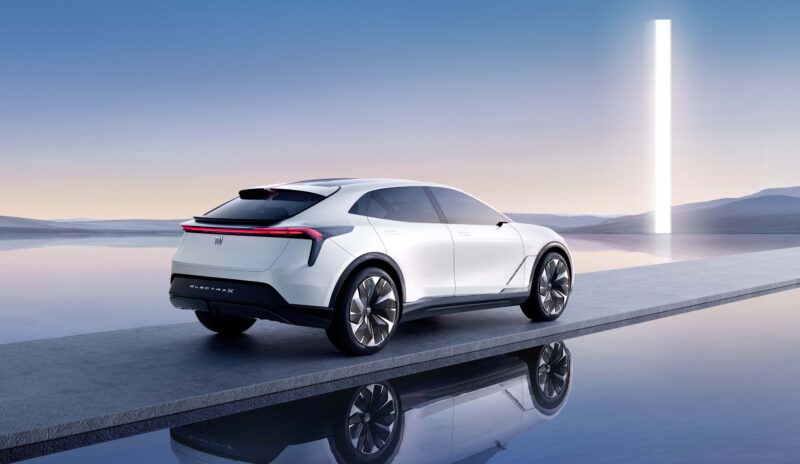 We'll forego the usual descriptive fluff from Buick about "check mark" headlamps and "shark nose" grille. The Electra-X does the talking for itself.
Inherently, as it should, it looks every bit the futuristic car fit for an electric future. But it's also grounded in reality, which means it's hopefully not a million miles from a production model.
It's perhaps a little lower than a production model might look, closer perhaps to a Mercedes-Benz GLA in height. Also the 21-inch wheels might lose an inch or two, but the coupe-like roofline, swollen arches and squat stance could all make a production model.
Buick says the vehicle projects information at the side and rear for pedestrian protection. That feature is unlikely to make production, alongside the rear-view cameras instead of mirrors.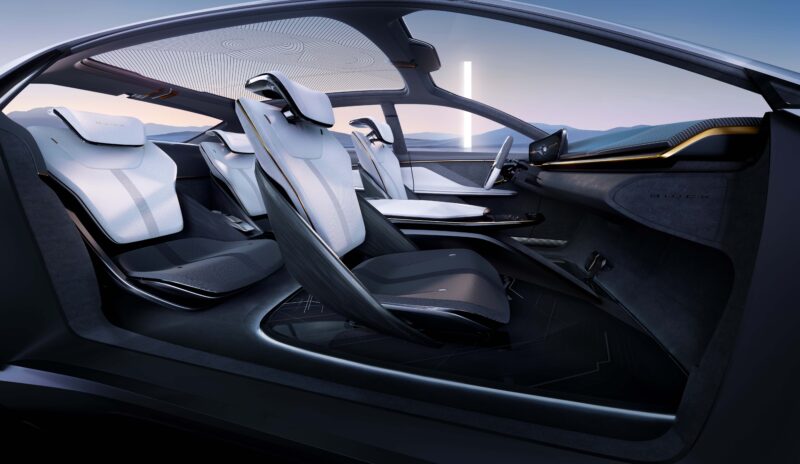 Concept Interior Space
Inside the Electra-X gets the full creative design experience. The four-seat layout and two-tone black and "cool grey" upholstery with copper accents certainly look the part.
3D-knit fabric made from recycled PET plastic bottles wraps the lightweight seats, which aids the car's environmental credentials, although they do seem somewhat lacking in support to counter enthusiastic driving.
One thing that's not lacking is space. The acres of head and legroom come courtesy of GM's Ultium platform that the Electra-X sits on.
The feeling of airiness comes courtesy of a wraparound windscreen and large panoramic roof, while floor lighting and a simple centre console enhance the feeling of space.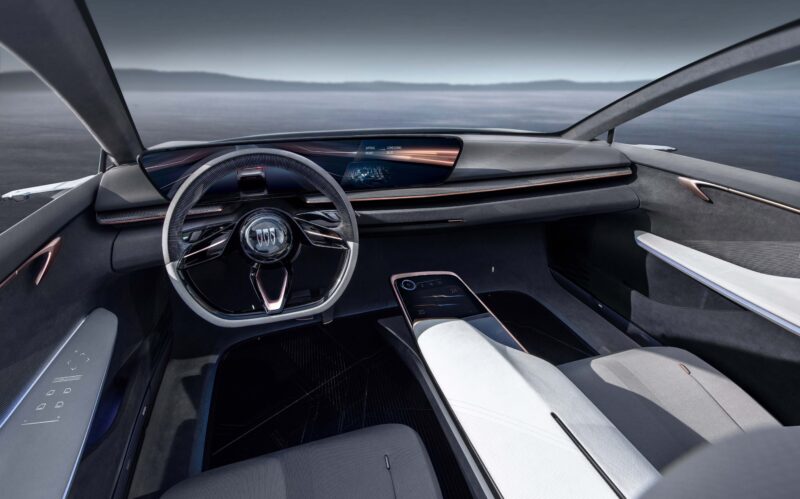 From the driver's seat, the Electra-X looks to be a study in minimalism, almost entirely devoid of buttons and dials. Window and mirror controls appear to be of the touch-sensitive variety, embedded in the fabric.
A single, 30-inch screen known as EYEMAX, curves around the driving seat and offers up to 6k resolution and a billion colors with a pixel density almost on a par with the human eye. It's also got 5G connectivity built-in for rapid video transmission.
All this is part of the Virtual Cockpit System (VCS), powered by the industry-standard QUALCOMM Snapdragon 8155 chip which allows for OTA updates.
That distinct lack of tactile appendage means customized voice control and personalized recommendations for 50 scenarios are on offer, catering for the navigation, audio, air-con, seats, and interior ambience.
In addition, the Super Cruise driver assist supports some autonomous driving with lane change on demand and automatic lane change functions.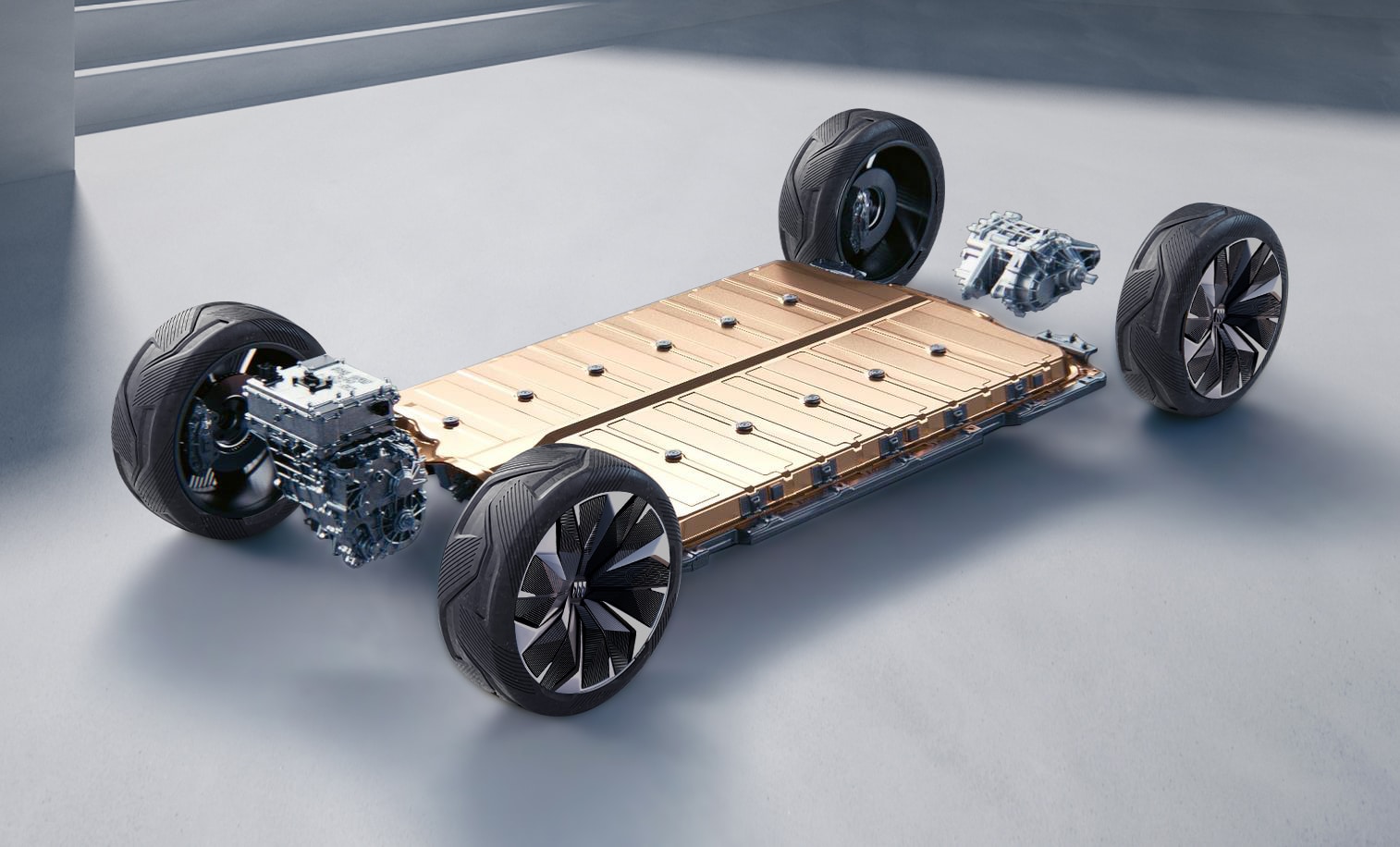 Part of something bigger
The Electra-X previews a total of five new pure-electric models coming to China by 2025. Although not part of the announcement, we'd fully expect the first to be an SUV in the same mould as the Electra-X.
It joined the all-new GS8 CENTURY on the virtual stage in what felt very much like a brand relaunch. In total, the brand expects 12 new models by 2025, the remainder being a mix of hybrids and ICE vehicles.
There's no doubting that Buick has work on its hands to reshape their ageing image in China. Once seen as the height of luxury, many now see Buicks as dated and off the pace against local rivals.
If the Electra, and to an extent the GS8 CENTURY, are anything to go by, they may be on the comeback trail.