German Federal Motor Transport Authority published vehicle registration data for the first month of 2023. The report revealed that the Hefei-based EV maker registered a single car in Germany. In total, 179,247 vehicles were registered in Germany in January, 2.6% down from the same month last year. In 2022 Nio registered a total of 498 cars in Germany, with 260 registration in December.
Among the German brands, Porsche registered 19% more cars YoY (3,057 units), Mercedes 14.5% more (21,439 units), and Volkswagen 1.3% more (37,076 units) in January. On the other hand, BMW's registrations slipped 25% YoY, registering 11,158 cars, and Audi declined 1% YoY with 14,754 cars. With 20.7%, VW holds the brand with the largest market share.
Among foreign brands, Tesla achieved the largest proportional growth of 912% YoY, registering 4,241 cars in Germany. January was also positive for Dacia, with 42% growth, and Toyota, with +28%. Contrary, Renault declined by 36%, Hyundai by 7%, and Fiat by 3.4% compared with the same month last year.

Pure electric cars were 10.1% of all registrations in January, and the 18,136 registered EVs is a 13% decline compared with January previous year. Also, 50,772 hybrid cars were registered, accounting for 28% of the January pie and a decline of 6% YoY. Only 8,853 cars were plugin hybrids (PHEV). In contrast, 69,992 registered ICE cars are a 3.5% YoY increase.
Looking at the other Chinese brands, BYD registered 50 cars in Germany, Lynk&Co 410 cars, growing 97% YoY, and not so much known Chinese EV startup Aiways registered 5 cars.
While in China, Nio delivered fair enough 8,506 cars despite the Chinese New Year holiday and government EV subsidies ending in December, January wasn't a good month for Nio in Europe. In the Netherlands, 10 cars are registered, and in Norway, only 3. Norway registrations were heavily influenced by new customs duties on imported cars.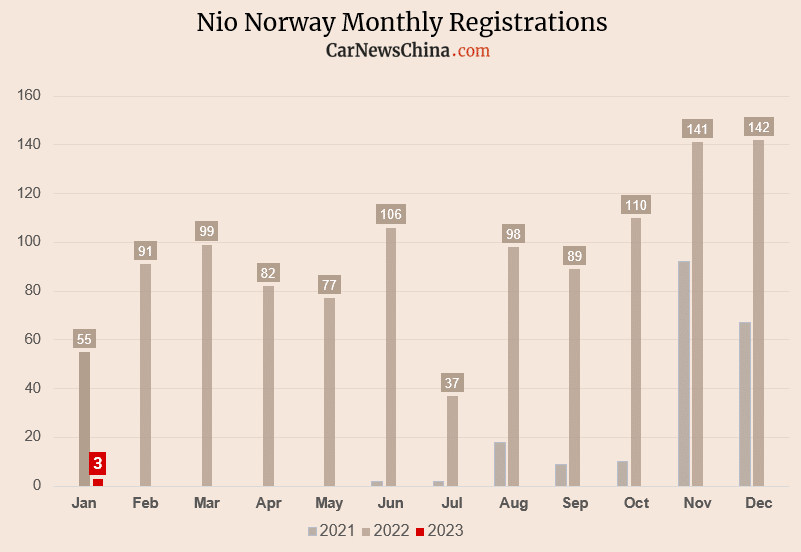 Nio currently operates 12 battery swap stations (PSS) in Europe; two are in Germany (Zusmarshausen and Hilden), with the plan to have 120 PSS by the year's end. In China, Nio operates about 1300 PSS intending to have over 1700 by the year's end.
Nio plans to enter more European countries based on their 25 countries by 2025 plan, including Italy, Spain, France, and Switzerland. UK entrance is also approaching as Nio deployed their real estate team there and actively seek locations for their PSS. In June, Nio will also launch ET5 Kombi in Europe, making it the first Nio car to debut overseas. The US entrance should happen by 2025, according to Nio.
As companies president announced, Nio is also preparing a European first small car brand codenamed Firefly, which will launch in 2024. Another brand, codenamed Alps, will also start deliveries in 2024 China and offer entry-level EVs starting at 200,000 yuan ($29,000).