Nio will start the installation of Power Swap Stations (PSS) in the UK in 2023, announced Eleanor Sand, Nio's Network Development Lead, on January 3. "We are actively seeking sites throughout all cities in the UK to host our Power Swap Stations, so if you are a landowner or CPO interested in learning more, please do get in touch," Sand posted on Linkedin.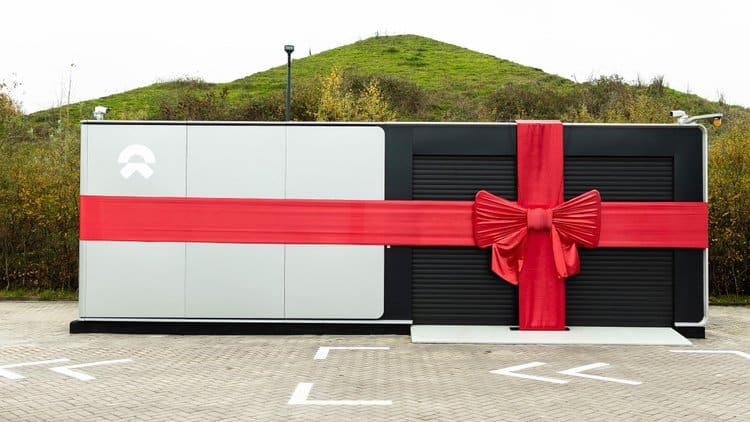 Nio currently operates over 1300 PSS in China and 10 PSS in Europe. William Li stated that the goal for 2023 is to have 1700 PSS in China. In Europe, Nio announced it plans to have 120 PSS by the end of 2023. Doing the math, Nio plans to build 400 new PSS in china and 110 PSS in Europe this year. Nio's overall plan is to have 4000 PSS in operation by 2025, including 1000 overseas.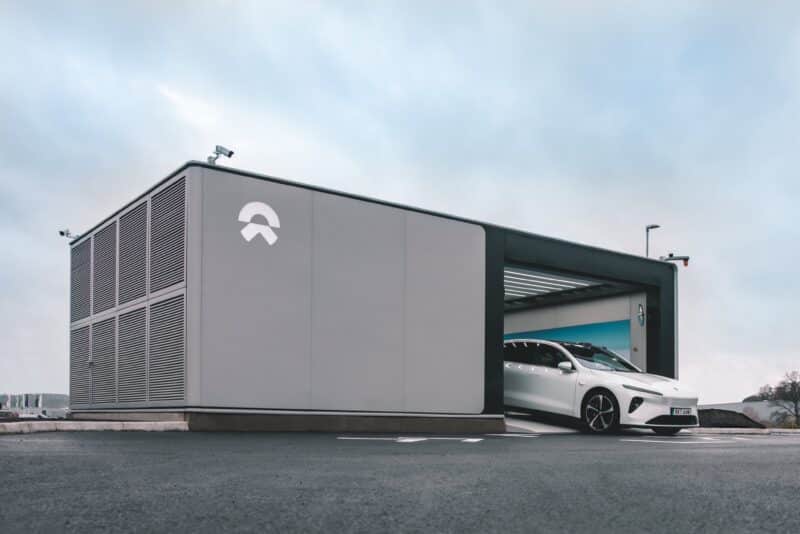 In Europe, the original goal was to have 20 PSS by the end of 2022. This estimation was later lowered to 17-18 PSS by company president Qin Lihong. Today, we can see the final number is 10, as the last station was opened on December 29 in Den Hoorn, Netherlands, marking the third swap station in the country. The complete list of opened and planned European swap stations can be found here.
Nio follows its 25 countries by 2025 plan, meaning the Chinese EV maker wants to establish a presence in 25 countries until 2025. It entered the first EU countries in October through Germany, Netherlands, Sweden, and Denmark. The following targets are France, Switzerland, Italy, Hungary, Spain, Austria, and – the United Kingdom.
In Germany, Nio also opened its first EU Nio House located in Berlin. Nio already operates one Nio house in Norway together with 3 additional Nio Spaces (a smaller Nio house – more like a showroom). About 10 new Nio Houses and Spaces are in the making in Europe; their location can be tracked here.
Nio is not stopping in Europe. William Li personally confirmed in November last year that Nio wants to expand to the US market before 2025, saying the next generation of Nio cars is coming to the US. Li didn't clarify what he meant by "next generation," some Chinese media speculate it might be a hint for the next generation platform NT 3.0.
However, Nio is not new in the US. They opened the first office in North America six years ago, on October 2016, and even appointed Padmasree Warrior as Nio U.S. CEO. While Padmasree is no longer with the Chinese company, Nio recently started a hiring spree in their Silicon Valley HQ and opened many new job positions related to US car safety compliance. Hiring is conducted by its San Jose office in Califonia. Moreover, Nio opened about 60 new positions, including Linux specialists, camera systems developers, vehicle motion SW engineers, and homologation and safety standards experts.
During Nio Day on December 24, Nio unveiled its new Generation 3 swap station. It can store 21 batteries (Gen2 only 13) and perform 408 swaps daily (up from about 300 swaps Gen2 can do), according to Nio. The Generation 3.0 PSS is equipped with two lidars which help the car to navigate itself for the swap.
The Generation 3.0 PSS will go into operation in March 2023, and it remains unclear if Nio will install Gen2 or the newest Gen3 in the UK. I would guess they will start with Gen2 first, as all Nio's PSS intended for Europe are manufactured in a Hungarian factory in Biatorbagy, near Budapest, which currently produces only Gen2.