BYD Seagull is a 5-door 4-seat hatchback and was recently spotted on a highway in a lovely yellow shade without camouflage. The car has generated buzz in the EV market due to its affordable price and quite impressive specs. The Seagull EV is powered by a 75-horsepower electric motor and features BYD's signature LFP Blade battery. BYD plans Seagull also for export markets.
Despite being an affordable EV, the Seagull is bigger than expected. Its dimensions are 3780/1715/1540 mm with a wheelbase of 2500 mm. For comparison, it's 345 mm shorter, 55 mm narrower, and 30 mm lower than the BYD Dolphin. In terms of size, the main competitors of the Seagull are Wuling Bingo, Leap T03, and ORA White Cat. The curb weight lies in the 1160- 1240 kg range.
The price wasn't revealed yet; however, based on the leaked pricelist, it will start at 65,800 yuan ($9,500) for a 265 km CLTC range version and top trim level with a 408 km range for 95,800 yuan ($13,900).
| | |
| --- | --- |
| Trim name | Price (yuan) |
| Light Edition 265 | 65,800 |
| Free Edition 310 | 75,800 |
| Fly Edition 310 | 82,800 |
| Lighting Edition 408 | 95,800 |
| Track Edition 360 | 112,800 |
Seagull leaked pricelist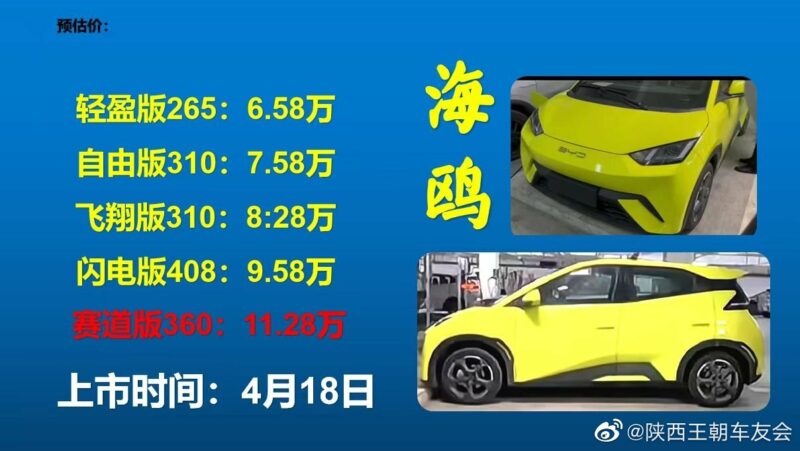 The Seagull is the smallest vehicle in BYD's Ocean series, comprising two vehicles: Seal and Dolphin. These vehicles share the same design language called 'Marine Aesthetics.' As with all Ocean series models, it will probably also sit on e-platform 3.0.
The car is called Seagull in media, but the official name wasn't confirmed. As CarNewsChina reported earlier, based on pictures released by the Chinese regulator, there are two other variants of its name on the fifth door of the car. The first one is 海豚Q (Dolphin Q), and the second one is 海豚Mini (Dolphin Mini). It looks like BYD isn't sure about the Seagull's name yet.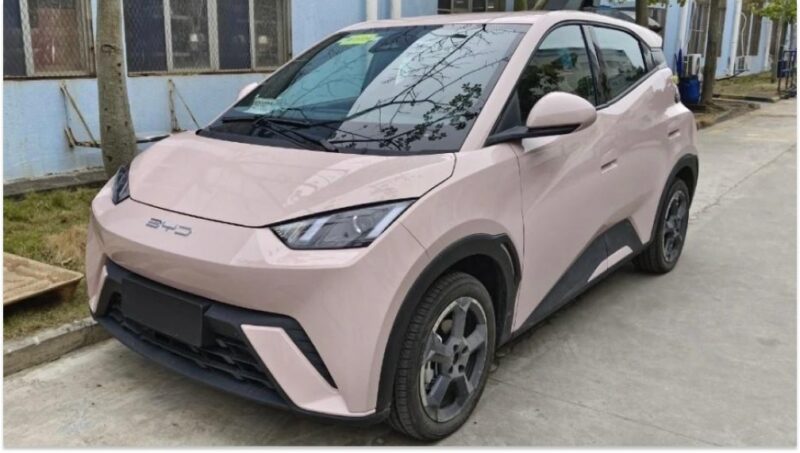 Editor's comment
The BYD Seagull might be BYD's most essential in their push to make EVs affordable. This EV is an actual car, unlike Wuling Mini EV, Chery QQ Ice Cram, and BAW Yuanbao. It is a bit more expensive, but the difference is massive. Those micro EVs' top travel speed is about 60km/h; they have poor acceleration and do not have a proper airbag system. BYD Seagull has a motor and acceleration powerful enough for highway and safety standards allowing it to export to the western markets. BYD already sells Atto 3 (Yuan Plus) in Europe. Will Seagull follow it and come to compete with the 20,500 EUR ($21,800) Dacia Spring EV?