On April 11, Volkswagen's electric version of the famous Passat was revealed in China. The ID.7 will have a 150 kW single motor, 700 km range, NMC ternary 77 kWh battery, and will be assembled by FAW-Volkwagen joint venture's plant in Guangdong.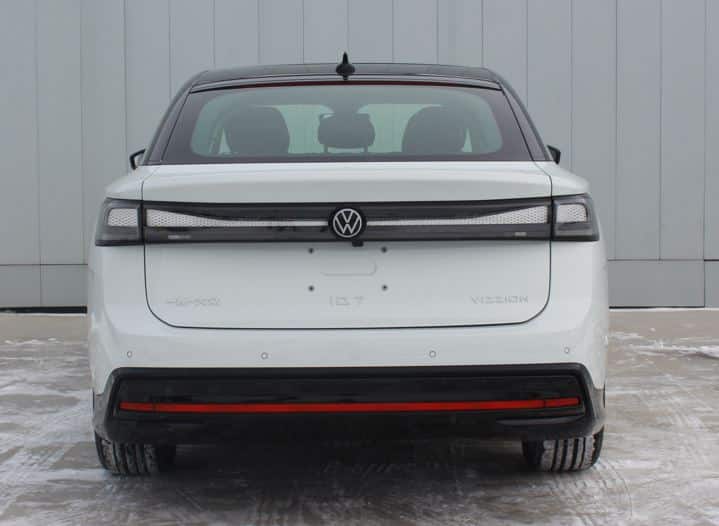 In China, every car must be approved by the local regulator before going on the market. The regulator body sits under the Chinese Ministry of Information and Technology (MIIT), and every month they publish the list of the cars that went through the homologation process. Automakers are not very happy about it as it reveals pictures and specs of the vehicles they didn't yet launch, but we don't mind.

ID.7 is VW's flagship electric sedan and is all ID. series car, it sits on the EV-dedicated MEB platform. On the rear of the vehicle, we can notice the writing Vizzon. Vizzion was the name of Volkswagen's electric concept car; this might suggest that the full name of the new Volkswagens electric sedan will be ID.7 Vizzion.

The ID.7 dimensions are 4956mm, 1862mm, and 1537mm, with a wheelbase of 2965mm. The car has an augmented reality HUD (head-up display), which projects some dashboard information on the windshield. The curb weight is 2122 kg, offering two wheel options – 235/55 R18 and 235/50 R19. The maximum speed with the 201 hp motor is 155 km/h.

In China, Volkswagen sells ID.4 and ID.6 SUVs and smaller ID.3 hatchbacks. While ID.4 and ID.6 are manufactured by both VW's joint ventures with FAW and SAIC, ID.3 is made only by SAIC joint venture. The FAW joint venture won the ID.7, which will be manufactured in the VW-FAW plant in Foshan in Guangdong.
China's most important market
China is Volkswagen's most important market, with SAIC-Volkswagen achieving the milestone of being the first automaker to sell 22 million cars in China. In 2022, the Volkswagen Group sold 3.18 million vehicles in China, accounting for a significant portion of the company's global sales of 8.3 million cars. The ID. series has also seen remarkable growth in China, with 143,100 units sold, twice the previous year's sales. China is responsible for 44% of all global IDs. Deliveries.
VW's joint ventures
Foreign automakers historically had to form a 50:50 joint venture with a Chinese automaker to enter the Chinese car market. VW, for instance, has two primary joint ventures with SAIC and FAW. To cater to both ventures, they introduced the ID. series – ID.4 and ID.6 – with each. To differentiate between SAIC-made and FAW-made cars, they branded the former with an X (ID.4 X, ID.6 X) and the latter with BUZZ (ID.4 BUZZ, ID.6 BUZZ) to avoid any confusion. The ID.3, on the other hand, was exclusively launched with the SAIC joint venture.
Price war
Tesla started an EV price war in China when they discounted their models by 12% in January. Last month, Volkswagen responded, and FAW-VW announced a discount of 40,000 yuan ($5,800) on its ID. lineup. As a result, the price of the ID.4 has now dropped to 174,900 yuan ($25,000).
In response, SAIC-VW, another Volkswagen joint venture, reduced the prices of all its electric models by 30,000 yuan ($4,300), so for example, ID.3 now starts at $18,000 in China at some dealers.
The ID.7 will start deliveries in the second half of the year and will debut publicly at Shanghai Auto Show on April 18.
Editor's comment
Recently VW announced they are working on an ID.2 – a 25,000 EUR ($27,300) hatchback for Europe. Its concept was, without a doubt, the least ambitious concept car I had seen in a while. As China-made ID.3 retail price is $18,000, maybe a quicker way to bring a 25,000 EUR EV to Europe would be to import China-made ID.3. It works for Tesla.
However, I believe that for VW, it is politically impossible and might backfire. Still, it raises the question of whether EU automakers will be able to compete with China-made EVs in the future as the import tariffs are relatively low (10%).
In Europe, the ID.7 price is expected to be about $55,000; let's see what the cost in China will be.