On May 4, German media reported that Tesla's German plant in Brunheide, near Berlin, started production of the Model Y SUV with an LFP Blade battery from BYD. Tesla already produces EVs with CATL, LG batteries for China and Europe, and Panasonic packs for North America.
According to Teslamag.de, the entry-level Model Y RWD will feature BYD batteries, while the imported China-made Model 3 will feature an LFP battery from CATL. The CATL and BYD are the number one and number two battery producers globally.
While CATL focuses on batteries only, BYD is a vertically integrated company that covers the whole EV supply chain, from owning lithium mines to making batteries and producing electric vehicles and software and ADAS for its vehicles. I say vehicles and not cars because BYD is also solid in the bus business. They expanded to the US with their school buses, so it's already there for people wondering when BYD will come to America. However, it most likely won't be anytime soon with passenger vehicles.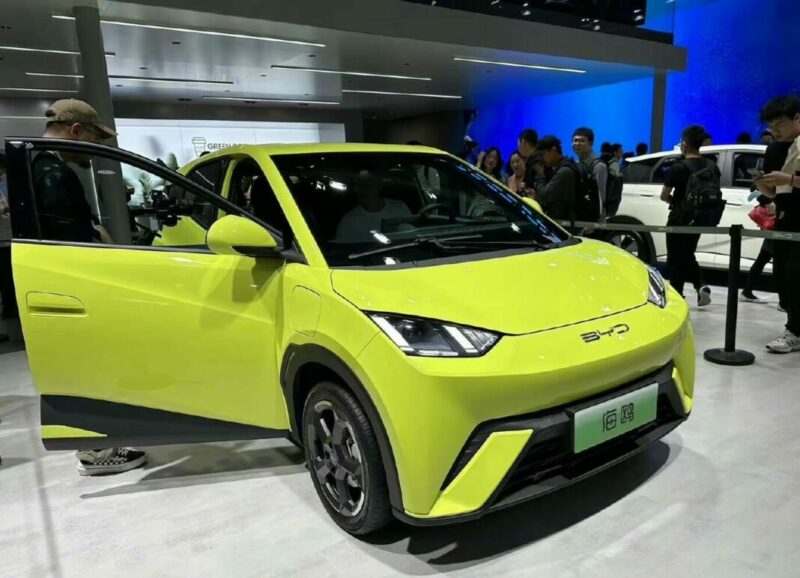 In early 2022, reports emerged indicating that Tesla had placed an official order with FinDreams Battery, the battery manufacturing division of BYD, for blade batteries to be used in 204,000 vehicles annually.
Later in June, BYD's vice president, Lian Yubo, stated in an interview with CGTN that BYD would be providing Tesla batteries soon. However, the video was later removed from the state media website.
According to several sources familiar with the matter and cited by local outlet Sina Auto Tech in August last year, BYD has already started delivering blade battery supplies to Tesla's factory in Berlin, Germany. This factory is the first Tesla Gigafactory to use BYD batteries. Since then, no news on BYD and Tesla's cooperation emerged until March 2023, when rumors emerged that Tesla wouldn't prolong the contract with BYD. Elon Musk himself swiftly commented on Twitter that BYD-Tesla relations are positive.
Interestingly, there was never an official confirmation of the contract signing between BYD and Tesla, so by denying the contract termination rumor, Elon Musk hinted that something is going on between the two biggest electric vehicle makers.
BYD reported that in 2022, the Shenzhen-based automaker sold 1,863,494 new energy vehicles, consisting of 946,239 plug-in hybrid passenger cars, 911,140 all-electric passenger cars, and 6,115 commercial vehicles and buses.
In April, BYD sold 104,346 BEVs, 82% up compared to the same month last year and 1.7% up compared to the previous month. It was also the third-best month in BYD history regarding BEV sales. BYD also sold 105,103 PHEVs, so in total, BYD sold 209,464 passenger vehicles in April, which is 98% up YoY. Their cumulative deliveries of NEV reached 4.1 million. In Q1, BYD outsold VW and became the number-one brand in China.
BYD ended the production of ICE vehicles a year ago in April.
For BYD, this wouldn't be the first cooperation with competition. Last month on April 16, Toyota launched a bZ3 ell-electric sedan with lots of BYD tech inside, including the Blade battery with LFP chemistry, BYD drivetrain, and electric engine from Fudi motors – a wholly owned BYD subsidiary. Toyota's second EV (yes, so behind Japanese car maker is) got 5000 preorders on the first day of sales in China.
Tesla didn't immediately respond CarNewsChina's request for comment; we will update the article if that changes.
Edit (00:50 GMT+8): Some readers contacted us about this: yes, we actually have a Tesla PR department in China.