On May 30, Li Auto disclosed the weekly sales figures derived from insurance registration data for week number 21 of 2023 (May 22 – 28). Local automakers have been consistently purchasing this data, and in the past, several insiders would publicly share it every Tuesday.
However, the bloggers ceased this practice in April due to specific complaints. Nevertheless, Li Auto has now taken over and independently released the data, providing rounded figures exclusively for NEV startups and premium brands.
Li Auto
Like in previous weeks, Li Auto got the first spot with 7,100 sold units, which is flat compared with the previous week. Worth noting Li Auto sells only range-extended vehicles (EREVs), meaning their cars feature ICE which is not connected to the wheels and works only as an electricity generator for the battery.
Li Auto currently delivers three models. Large 6-seater SUV L9 and two smaller SUVs, L7 and L8. Li Auto announced they expect L7 to hit 20,000 monthly sales by October. In April, Li Auto delivered 25,681 cars, up 25% from March.
Leap Motors
The second spot goes to budget EVs maker Leap Motors, which sold 3,600 units, 20% up from the previous week. The third spot goes to BYD's premium brand Denza which sold 2,600 units.
Xpeng
Xpeng got fourth place and managed to step up +40%, week-on-week, selling 2,100 units. That is a good sign, as their entry-level SUV G6 deliveries didn't yet start. Most likely updated Xpeng P7i sedan is selling well, and G9 might also have its moment.
Budget EV maker Neta sold 2,100 EVs, up 40% WoW. Zeekr is the ónly brand from the top 10 leaderboard that sold fewer cars the previous week – 1,900 units, 5% down WoW. Dongfeng's Shenlan sold 1,700 units.
Nio
Nio sold 1,600 units which is 14% up WoW. The model breakdown wasn't provided, but the majority of Nio sales are driven by their cheapest car ET5 mid-size sedan. In April, 65% of sold Nio cars were ET5. Nio launched ES6 SUV last week on May 24, it is their second cheapest car now and expects to boost sales significantly.
Huawei Aito sold 1,300 units of their smart EVs, 13% up.
Tesla sold 12,800 units in Week 21, slightly up from 10,200 units the week before.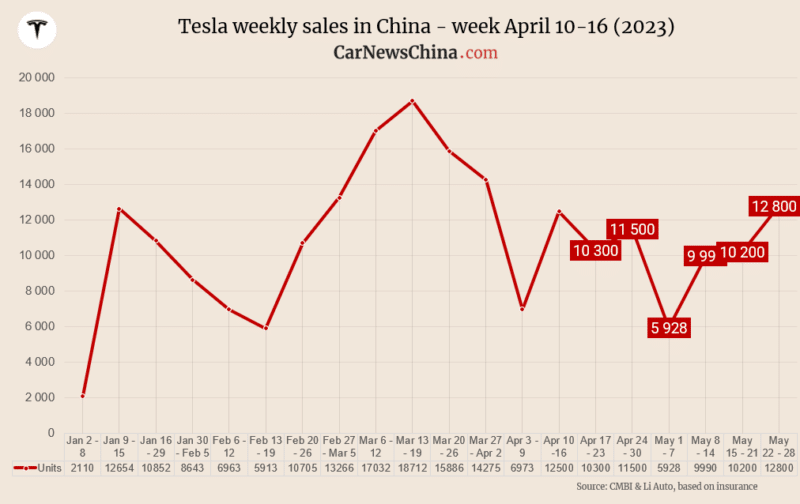 Li Auto also published a Top 10 leaderboard for premium passenger vehicles (PV) brands, which includes sales data for both ICE and NEVs. Like in the previous week (W20), the first spot goes to BMW, which sold 14,600 units, almost flat WoW.
Mercedes-Benz got the second spot and sold 13,900 cars, also almost flat WoW. Tesla got the fourth spot growing 25% and selling 12,800 EVs.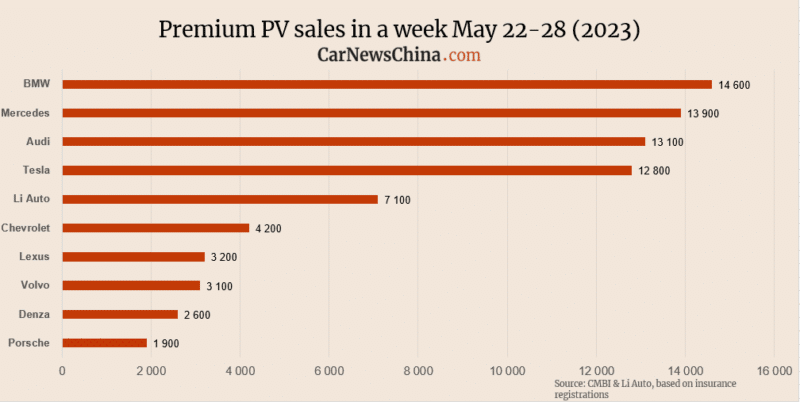 NEV (New Energy Vehicle) is the standardized Chinese term for BEVs, PHEVs, and FCEVs (hydrogen).