On September 19, Li Auto released weekly car sales data in China for week 37 of this year (September 11-17). The company doesn't specify the source of sales data, but apparently, they use insurance registration monitored by CMBI.
The numbers are rounded and present sales of new energy vehicles (NEV), the Chinese government term for BEVs and PHEVs. To be completely precise, it also includes hydrogen vehicles (FCEVs), but their sales are almost non-existent in China.
BYD sold 51,100 cars in week 37 (W37), up 11% from the previous one when they delivered 45,900 units. The data doesn't show the sales ratio of all-electric vehicles (BEV) vs. plugin hybrids (PHEVs). However, BYD's long-term ratio is about 50:50. Last month, BYD sold slightly more BEVs than PHEVs: August deliveries were 274,386 NEVs, of which 145,627 were all-electric vehicles, so the ratio is 53% for BEVs and 47% for PHEVs.
BYD stopped production of internal combustion engine (ICE) vehicles in April last year, focusing only on NEVs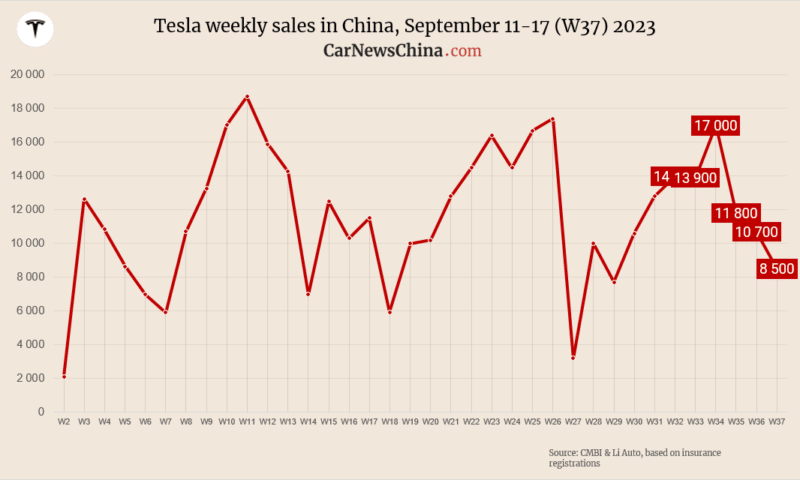 Tesla continued the downtrend and sold 8,500 cars in China, 20% down from the previous week. The reason is that Tesla Model 3 sales collapsed, and almost all deliveries are now driven by Model Y SUVs. Tesla revealed an upgraded Model 3 at the beginning of September, so the buyers are most likely waiting for it. Deliveries will most likely start in October.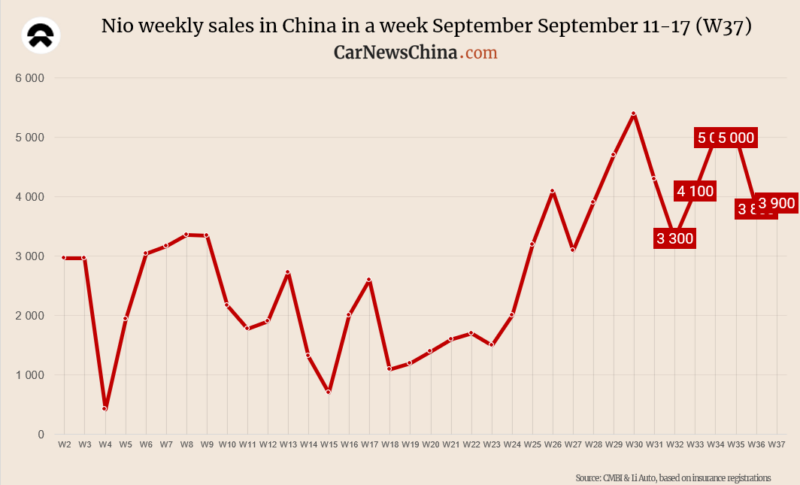 Nio sold 3,900 EVs, up 3% from the previous week when they delivered 3,800 units. Nio recently launched the new EC6 coupe SUV underpinned by the NT2 platform. EC6 was the last model on sale underpinned by the old NT1 platform, and by launching the new generation, Nio finished the transition of the whole lineup to NT2.
The Hefei-based automaker previously announced they don't plan to launch any new product in 2024 with the Nio badge. However, their entry-level subbrand, codenamed Alps, will be unveiled next year.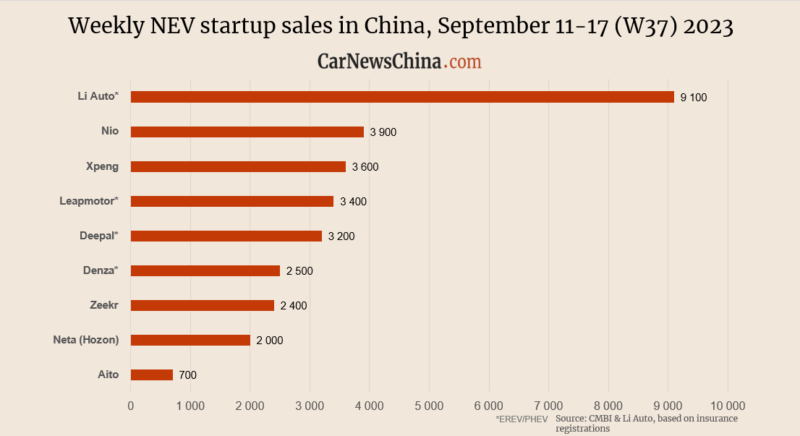 Li Auto continued growth for the second week in a row, selling 9,100 EVs, up 7% week-on-week. In W36, they sold 8,500 cars; in W35, it was 7,400. Li Auto sells only range-extended electric vehicles (EREVs), which are EVs with ICE as a power generator for the battery, not connected to wheels.
In December, Li Auto will launch its first all-electric car, Li Mega. It will be a massive MPV priced above 500,000 yuan (70k USD).
Xpeng sold 3,600 EVs, up 44% from the previous week when it was 2,500 units. Hopefully, their Model Y competitor Xpeng G6 is catching up, and the recognition for licensing their E/E platform to Volkswagen and buying 5% of the company is paying off.
Talking about VW, they sold 4,600 electric cars in China last week, up 5% WoW, which is not great, not terrible. The company took a radical price cut in August when they discounted the ID.3 hatchback by 16% to 119,00 yuan (16,500 USD) and continued the trend in September when they slashed the ID.4 SUV to 145,900 yuan (20,000 USD).