In September, Tesla sold 74k China-made vehicles globally – 43,507 units were delivered in China, and 30,566 were shipped to Europe, Australia, and other markets.
The China Passenger Car Association (CPCA) data also revealed that Model Y SUV contributed to most of the sales, delivering 41,428 units in China. Model 3 delivered only about 2000 units.
Tesla's September sales in China dropped 44% compared to the same period last year and 33% down compared to the previous month.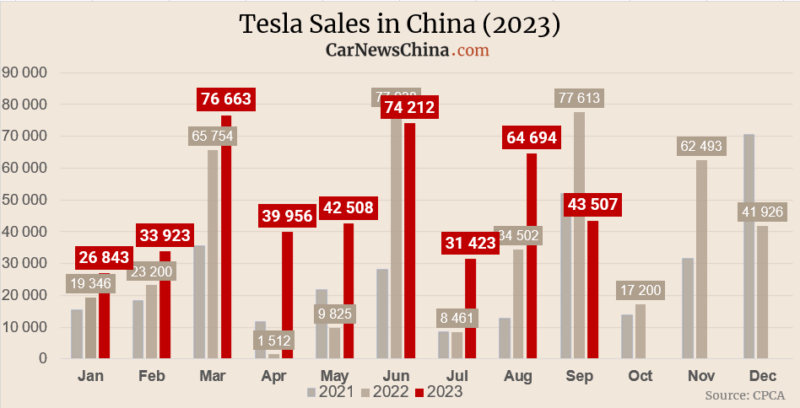 In the third quarter, Tesla delivered 139,624 vehicles in China, down 13.64% year-on-year and 10.88% month-on-month.
The exports were up in September and rose 454% compared to the same period last year. Compared with the previous month, when Tesla shipped 19.5k vehicles overseas, it is up 57%.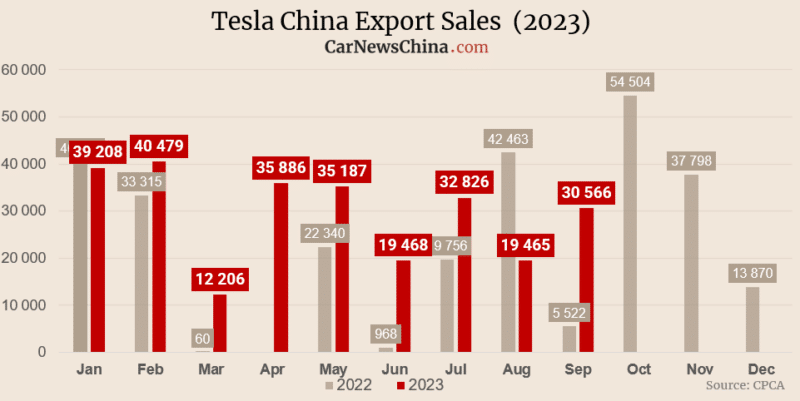 China's market accounted for 32% of Tesla's global sales in Q3, as Tesla delivered 435,059 vehicles.
Tesla is recently preparing the Giga Shanghai plant for the facelifted Model 3+ mass production start. On September 1, the Model 3+ started presale in China. The breakdown of sales data for the first week of October revealed that Tesla sold only 1000 vehicles in China, 86% down week-on-week, and all were Model Y SUVs. The deliveries of Model 3+ will begin in Q4; Tesla didn't specify the exact date yet.
Last week, on October 1, Tesla launched a slightly updated Tesla Model Y SUV with more power and the same price tag in China.
Tesla sold 433,729 EVs in China in the first three quarters of the year and exported 127,779 EVs from its Shanghai export hub.
Editor's comment
Tesla sales in China rely heavily on the Model Y SUV, which is popular in China. However, Model 3 sales were not so successful in the last months. The 200,000 yuan (27,400 USD) price segment is overcrowded with electric sedans, and the Model 3 is one of the victims of ruthless China's competition. There were too many affordable alternatives from Chinese EV makers such as Xpeng P7i, Huawei-backed Arcfox Alpha S, ambitious Neta S, outside-China-unknown SAIC's Rising F7, or BYD's sedan duo BYD Han and BYD Seal.
Will Model 3+ change the trend? My Tesla China source told me that Model 3+ got 43k pre-orders in September, which is, of course, an unconfirmed report. We will keep an eye on that once deliveries start.