Li Mega is a futuristic MPV from Li Auto, a Beijing-based EV startup focusing only on EREVs. That changes today, as their first BEV had a public debut in China and became available for pre-orders. Li Mega MPV will officially launch in December, test drivers will start in January, and deliveries will be in February.
Li Auto unveiled its first BEV at the Guangzhou Auto Show on Friday morning, and 1 hour and 42 minutes later, the company announced it received 10,000 pre-orders. The price of the Li Mega is yet unknown, but Li Auto claims it will be priced under 600,000 yuan (82,800 USD). The booking is possible for a 5000 yuan (700 USD) deposit.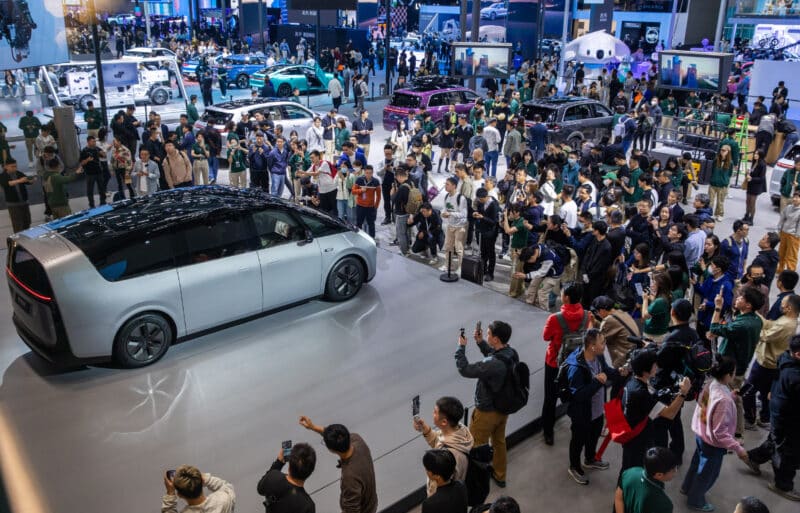 Li Mega is a large vehicle, way over 5.3 meters long. The dimensions are 5350/1965/1850 mm with a wheelbase of 3300 mm. It is a 7 seater with 2+2+3 layout. It has a pretty good aerodynamics with a drag coefficient of 0.215 Cd and features 3 lidars.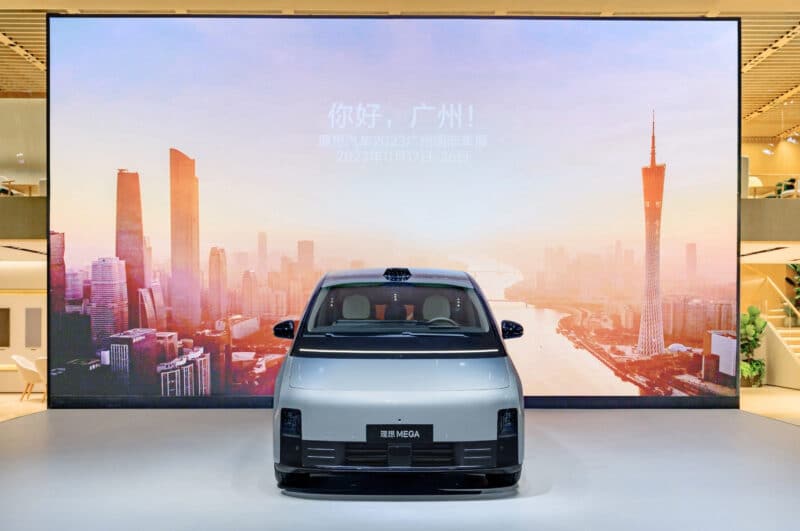 It comes equipped with two electric motors, the front 155 kW (211 hp), while the rear motor has a peak power of 245 kW (333 hp). Its combined power output reaches 400 kW (544 hp). The Mega speeds from 0 to 100 km/h in 5.5 seconds. 5C Qilin battery from CATl has capacity 102.7 kWh, good for CLTC range 700 km. The energy density is 170 Wh/kg and consumption 15.9 kWh/100km. 500 km can be charged in 12 minutes.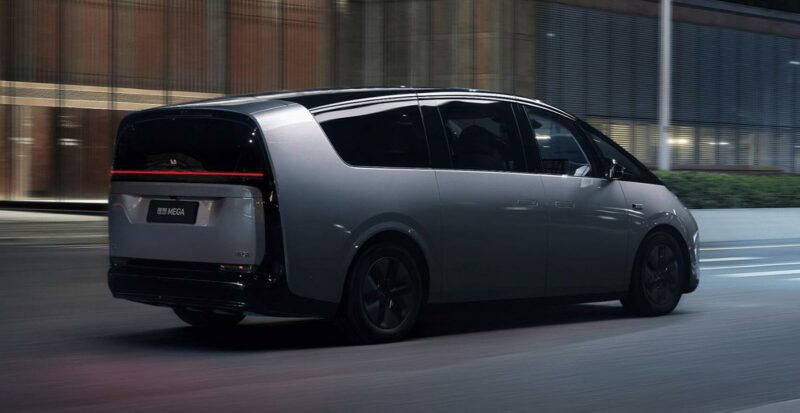 Li Mega got into the headlines not only because of its explosive design, which will be subject to many discussions, but also because of the 5C Qilin battery from CATL, which proved a maximum charging capacity of 552 kW during leaked testing. It showed a 6% – 80% charge can be done in 11 minutes.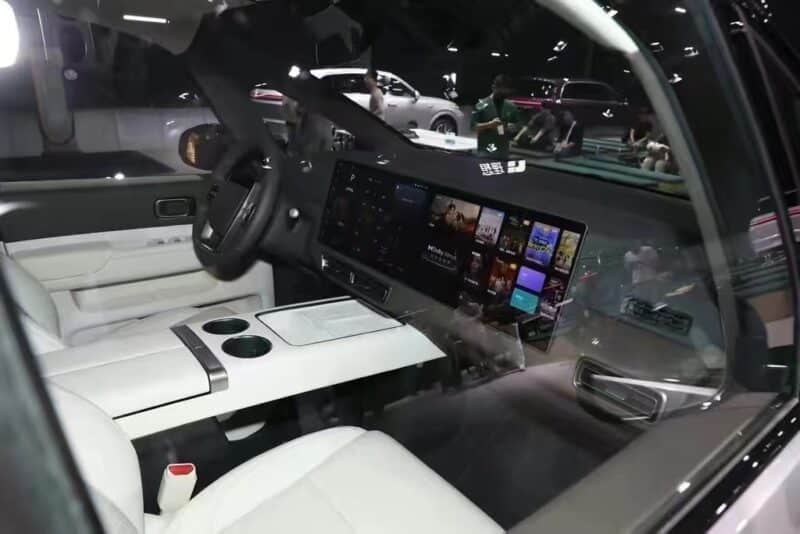 5C battery explained
If we oversimplify: The 5C is a charge rate that says how many times the battery can be charged in one hour. In this case, five times, so in theory, you can charge the entire battery in 12 minutes. In other words, 5C means "five times the capacity," so if you have, for example, a 1000 mAh battery, you can charge it with a 5000 mA current.
A 4C battery can be charged four times in one hour, so having a full battery would take 15 minutes.
Probably the best way to explain 5C is to compare Li Mega's 30% – 80% charging time with other 800V architecture EVs:
Li Mega: 7 minutes 46 seconds, peak power 522 kW
Avatr 11: 11 minutes 21 seconds, peak power 218 kW
Xpeng G6: 20 minutes, peak power 291 kW
Porsche Taycan 4S: 18 minutes; peak power 161kW
Li Auto's first BEV
Li Auto previously produced only electric range extended vehicles (EREVs). EREV is a type of plugin hybrid, where a small ICE only works as a power generator for the battery and is not connected to the wheels.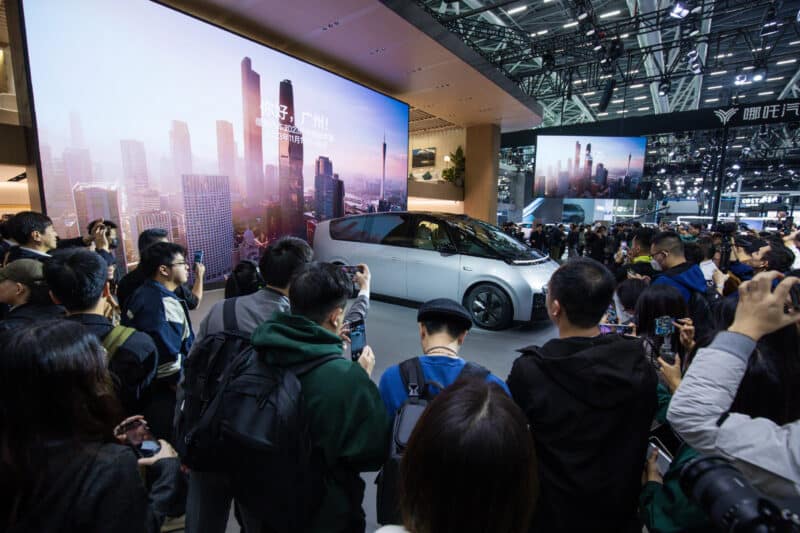 The reason was that Li Xiang, CEO of Li Auto, wasn't convinced that infrastructure and technology were ready for BEVs and thus took a different approach than anybody else. Xiang announced that if they launch BEV, it will be the right way so people have zero range anxiety. That would mean fair enough fast charging and sufficient charging infrastructure.
Li Auto plans 3000 supercharging station around China by 2025 and 300 competed by the end of the year.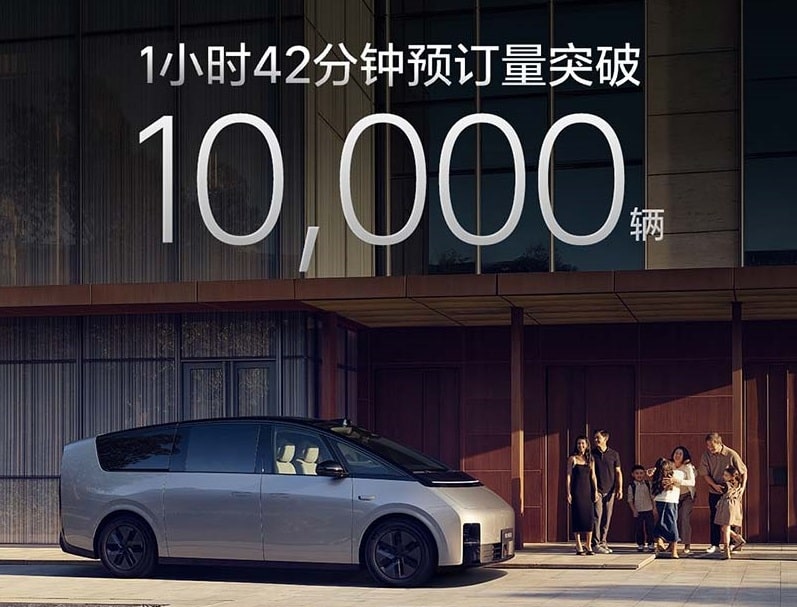 Competition
At the same time as Mega, Xpeng X9 MPV was launched at the Guangzhou Auto Show, starting at 388,000 yuan (53,500 USD), significantly lower than Li Mega. The electric MPV market has recently been pretty hot in China, and Li Mega will face many nines: Zeekr 009, Maxus Mifa 9, Hycan V09, Denza D9, and Volvo EM90.