Some good news for BYD. The company has won a contract to deliver 1500 pure electric K9 buses and e6 taxis to the public transportation fleet from the great city of Shenzhen in Guangdong Province. Shenzhen is BYD's hometown and has the largest all-electric vehicle fleet in a single city in the world. The contract consists of 1000 K9 buses and 500 e6 taxi's.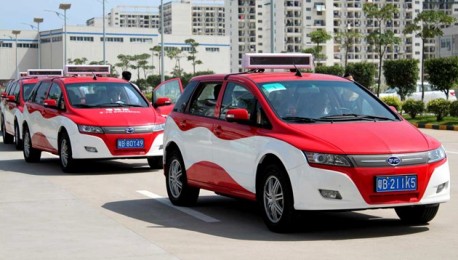 Shenzhen is very serious about electric cars and the local government is in full swing to make things happen. Shenzhen offers affordable peak and off-peak electricity prices for new energy vehicles, nightly charging costs only 0.3 yuan per KWh ($0.04 USD). Shenzhen hopes to add 3000 clean energy vehicles to its fleet this year and plans to install over 6,000 new charging stations.
Those stations are by far the most important thing to do because it is exactly the complete lack of stations in basically every city in China that has so far 'killed' EV-sales in China. The only EV on the passenger car market in China is the BYD e6, it was listed in October last year.
Source: BYD via Sunherald.