A brilliant spooky fast Lamborghini Murcielago Roadster in gold, seen by reader Holy-Smoke (thank you!) in an underground parking lot in the great city of Hangzhou in Zhejiang Province. The mighty Lambo is painted gold, this ain't some kinda cheapy wrap. Gold paint on tires an interesting extra touch. We dig; what a car.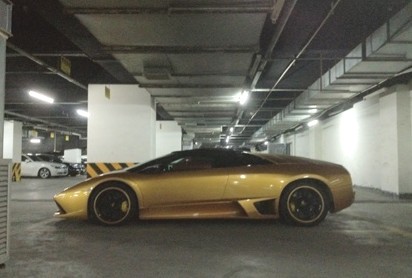 The Lamborghini Murcielago LP-640 Roadster was powered by a 6.5 liter V12 pooping out 631hp and 660nm. Top speed was 325km/h with the roof down but only 160km/h with the roof up. The Murcielago was the first Lamborghini super car officially sold in China.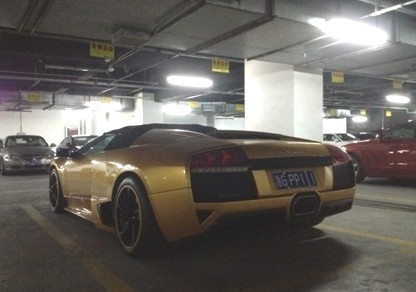 It proved to be a popular car, earlier on we saw some other fascinating examples: an expensive toy, SV in black, gray, SV in yellow, lime-green, chrome, Versace Edition, SV crash, LP650-4 Roadster, and another SV in yellow.