How low, can a Ford Mondeo go? Very low, as these fine photos from China prove. Wadda car! Painted in matte lime-green, big low profile tires, flat alloys, full-size body kit and suspension lowered to the max. The chrome is the 'second grille' under the bumper is a particularly nice touch.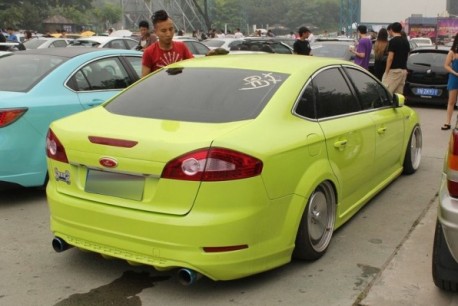 Very tasteful at the back, no wings or vents that spoil the lines. Ford logo in red, probably because blue doesn't blend too good with matte lime-green. The Mondeo is made in China by the Chang'an-Ford joint venture but sadly not very popular for customizing. Some interesting Mondeo's we met earlier: matte black, wedding car, police, and the new Mondeo is on its way.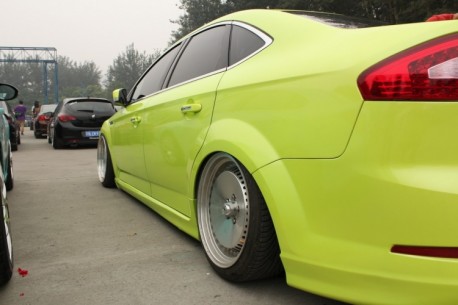 Those alloys are really very good. More lime green cars in China: Audi A4L, Volkswagen Bora, Ford Focus, Buick Regal, BMW X6, Citroen C2, Mercedes CLK, Nissan GT-R, and a Lamborghini Gallardo.