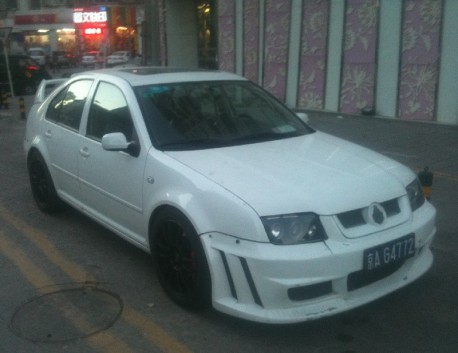 An extremely pimped Volkswagen Bora, seen on a parking lot near my home in Beijing. The Bora is boraa'd up by a gigantic body kit, blacked out alloys, a big wing on the back and a freaky logo on the grille…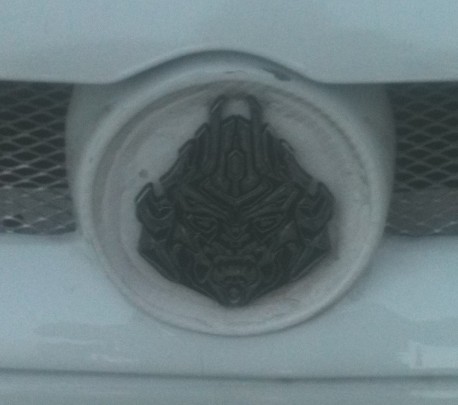 A mythological fighterman to scare sportcars on the highway. A very original thing, I have never seen it before on a car.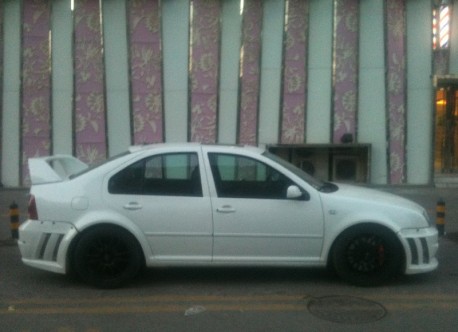 Body kit is a very heavy set of plastic. Air vents up front on on the back. Smaller skirts at the sides. Black alloys a very good contrast with dusty white paint. The Volkswagen Bora was based on the European Volkswagen Jetta, it was made in China by the FAW-Volkswagen joint venture until 2010 when it was replaced by the new Bora which was recently facelifted.
Base engine for the first Bora was a 140hp 1.6. For a too short while Volkswagen produced the crazy 180hp China-only Bora R, and there even was a Bora-Golf. Some other finely tuned Boraas we have seen in China: white-on-white, lime-green, green bodykit, and blue.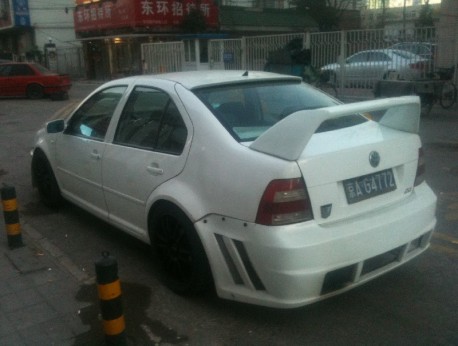 Wing will impress the girls.