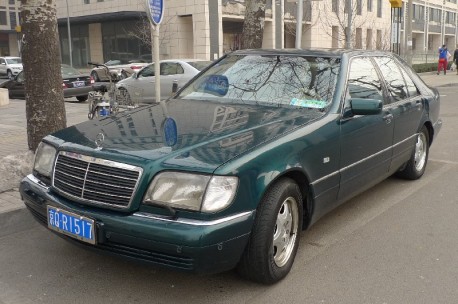 An extremely clean & green W140 Mercedes-Benz S280, seen near the Sanlitun beer district in Beijing. The vehicle seemed to be in near-perfect shape with bright paint, shiny chrome, and all parts intact. Green is a very rare color for the W140, especially in China, where most come in black.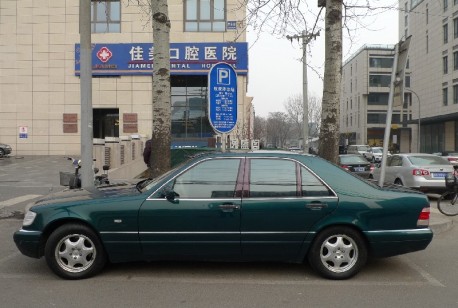 The W140 Mercedes-Benz S-class was produced from 1991 until 1998, it was the first S-class that was officially exported to China. The S280 was powered by a 2.8 liter six-in-line with 193hp and 270nm, top speed was a very decent 215km/h and 0-100 was gone in 10.5 seconds.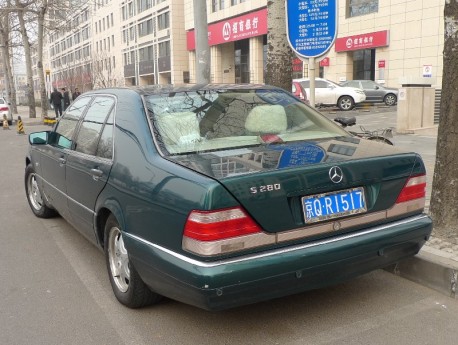 When I was taking the pictures a met the owner of the vehicle, a kinda hip man of about 40 years old. He wasn't very friendly at first, asking me rather rudely what the foek I was doing. I calmly explained that I liked his car a lot and such and such.
He was silent for a sec and then asked me whether I was interested in buying it  for 60.000 yuan (9.640 USD). That didn't sound like too much for such a clean example so I gave him my card, he didn't give me his card, and asked him to mail me some more details on the car. Sadly, he didn't.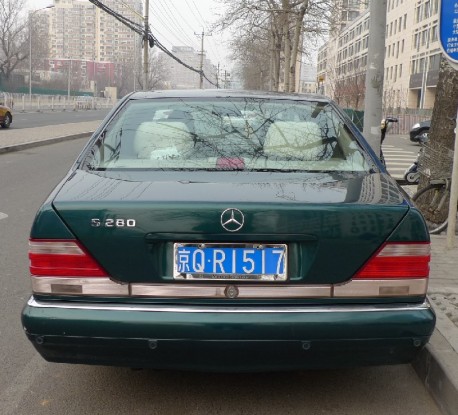 So now I am looking all over the streets every day, hoping to see it again…
Other W140 in China: S600 in black, Pullman S6000, S500 with W210 E, motorcade, motorcade, S500, crash, body kit, S500 in white, S600, and another S600.