A very beautiful BMW M3 sedan, seen in the Beijing Tuning Street here in the Capital. The fine vehicle was wrapped in a high quality matte dark blue wrap and further sexed up by a carbon fiber lip under the front spoiler, a black grille, a black roof, black mirrors and very racy six-spoke black-with-a-bit-yellow alloys.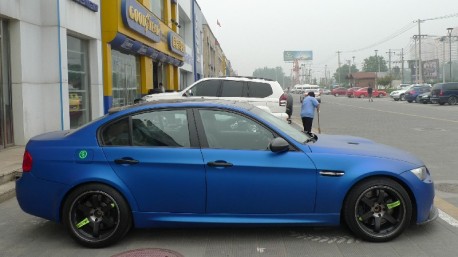 The west side of the Beijing Tuning street can be seen on the left. Black door handles contrasting nicely with matte dark blue. Yellow accents on alloys and fuel cap very refined. The E90 BMW M3 is an extremely popular car in China, powered by a 4.0 liter V8 with 420hp and 400nm, all for only 1.29 million yuan or 210.000 USD.
Time now, for our Famous China-BMW M3 Collection!™: shiny green, with hot redhead, with friends at the karaoke bar, Bling, license (M3246), body kit,  license (908M3), mint green, baby blue, E46 Convertible, Bling Convertible, shiny blue, matte black, and completely mad.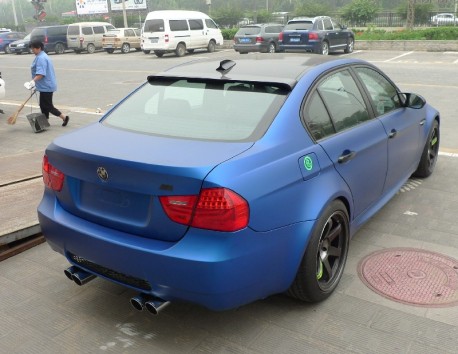 See that on the left, with broom? That is a real Chinese cleaning lady. Here she is again: