A speedy Nissan 350Z sportsmachine, seen in the Sanlitun bar street in central Beijing by reader & serial spotter Navigator 84, thank you for the pictures! The good vehicle has been wrapped in matte blue with a matte black roof and matte black & orange racing stripes. The Zed is further sexed up by a lowered suspension, black mirrors with an orange stripe, and sporty 5-spoke alloys.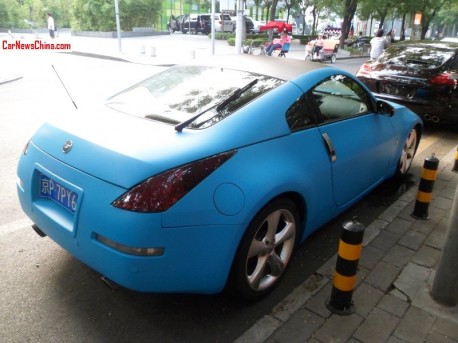 The back of the car is almost standard compared to the front, very clean & mean. Rear lights are covered with a dark-red film for less visibility and more cool.
The Nissan 350Z was made from 2002 until 2008, it was never officially exported to China but some examples arrived via the gray market. The Nissan 350Z was powered by a 3.5 liter V6 with 300hp and 353nm.
We met a few other fine 350Zeds before: matte black & carbon fiber, at karaoke, green alloys, bluegreen, Bling Roadster, and an orange Nismo.