A mellow yellow Lamborghini Aventador LP 700-4 Roadster, seen in the great city of Guangzhou in Guangdong Province, and this is the very first Roadster we see in China. The speedy super car is painted in bright yellow and further prettified by a black roof, black alloys, and yellow brakes.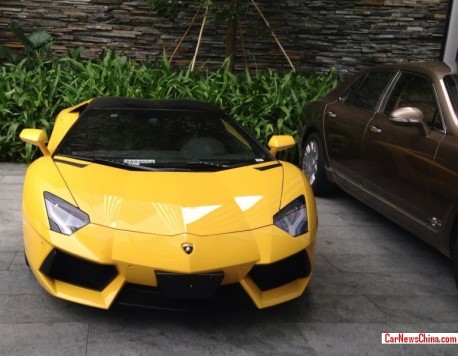 Bentley Mulsanne looks like a giant truck compared to Lambo, which isn't exactly a small car either. The LP 700-4 Roadster is powered by a manic 6.5 liter V12, good for 700hp and 690nm. Price for all this pretty: 7.38 million yuan or 1.2 million USD. Not cheap but fast, especially in yellow.
Time now, for our Famous China-Lamborghini Aventador Collection™: police & the replica, with 458, green-blue black,  shiny-lime green, black in Beijing, with Roller, Anniversario Edition, baby blue, Arsenal, white, shiny blue, with Lambo-friends, DMC LP900, crash, blue & orange, matte black,   strange alloys, with monk, too many, matte-black, with horny babes, in mustard yellow (scroll down), and impounded.