A black Rolls-Royce Phantom posing with an orange Lamborghini Aventador, seen in the great city of Chengdu in Sichuan Province. The Roller costs 6.8 million yuan in China, the Lambo another 6.57 million; that's 13.37 million yuan or 2.17 million USD.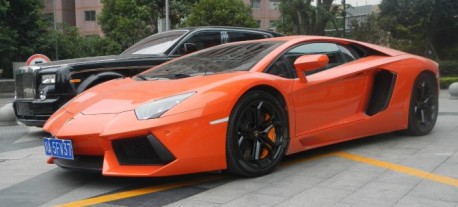 As a jet fighter to an aircraft carrier. A few other fine Phantoms we met in China: white whale, exteeeended, dual-tone, crash, crash, crash, a China Dragon and another giant EWB.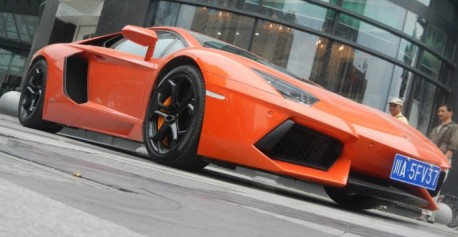 The brilliant Aventador has fast become the single most popular hypercar in China, we got us a Famous China-Lamborghini Aventador Collection™: Anniversario Edition, baby blue, Arsenal, white, shiny blue, with Lambo-friends, DMC LP900, crash, blue & orange, matte black,   strange alloys, with monk, too many, matte-black, with horny babes, in mustard yellow (scroll down), and impounded.