A gigantic black Lincoln Town Car stretched limousine, seen in a gigantic but unfinished residential high-rise complex in the far eastern suburbs of Beijing. The whale of a Lincoln was literally standing in the middle of nowhere, not a single soul to sea, and even the gate to the building site was abandoned. It could belong to a real estate mogul man, but these guys usually ride Benz.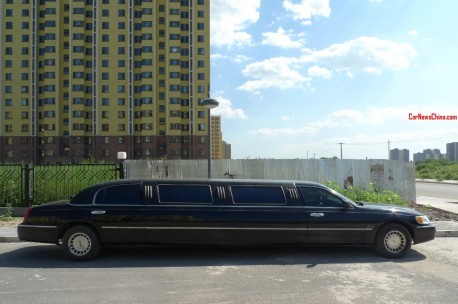 The Town Car was stretched by about six full meters in the middle, making for a truly big sled. The third generation Lincoln Town Car was produced from 1989 until 2003, powered by a 4.6 liter V8. The base Town Car was already 5.6 meters long, but in the US and China, a bit big is not big enough.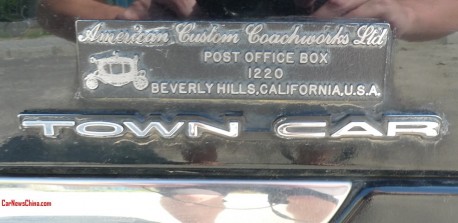 The stretching was done by a Californian company called American Custom Coachworks Ltd.. As far as I can find the company stopped manufacturing limo's in 2003 and continued for a while as a sales-only company called 'American Limousine Sales', but their website is is gone so I guess they went under. Too bad, their logo loox great.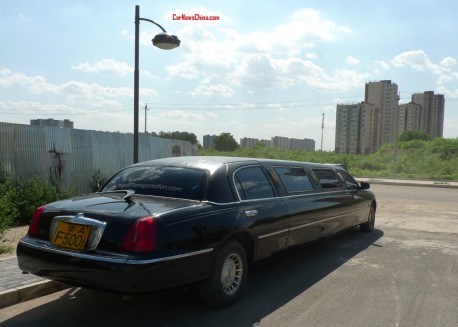 TV antenna very 1990's. The limousine has yellow license plates. Passenger cars have blue license plates, but everything longer than six meters is automatically designated as a truck by the Chinese traffic authorities, just like this Maybach. The buildings in the background are all empty too, they will start filling up next spring.
Time now, for our Famous China-Lincoln Town Car collection™: signature series, stretched limousine, stretched on sale, bling-gold, silver limo, very stretched, super stretched,  stretched to the max, marriage, first-gen limo black, Hongqi CA7460 and orange.