Nasty crash in the great city of Shenzhen in Guangdong Province. An orange Lamborghini Aventador hit on a Lexus RX350 on a crossing, causing slight damage to both cars. The owner of the Lambo can be seen walking towards the vehicle. He is wearing yellow trousers, which is not very manly.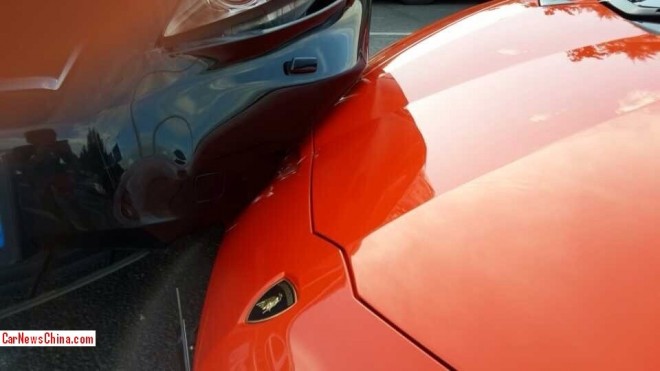 The bumper of the Lexus has been deformed. The bumper of the Lambo has been damaged and will need replacement, and that will be very expensive. A new Aventador costs 6.48 million yuan in China, or 1.06 million USD. Let's hope the repair proves so costly that the owner has to sell his yellow trousers to pay for it.
Time now, for our Famous China-Lamborghini Aventador Collection™: sinking, yellow roadster, police & the replica, with 458, green-blue black,  shiny-lime green, black in Beijing, with Roller, Anniversario Edition, baby blue, Arsenal, white, shiny blue, with Lambo-friends, DMC LP900, crash, blue & orange, matte black,   strange alloys, with monk, too many, matte-black, with horny babes, in mustard yellow (scroll down), and impounded.