A very fiery fourth generation Chevrolet Camaro Z28 coupe, seen in the great city of Chengdu in Sichuan Province. The fourth was manufactured from 1993 until 2002. This particular car is a post-1998 model. In 1998 the Camaro received a major facelift that included a new front fascia with rounded headlights and a larger grille.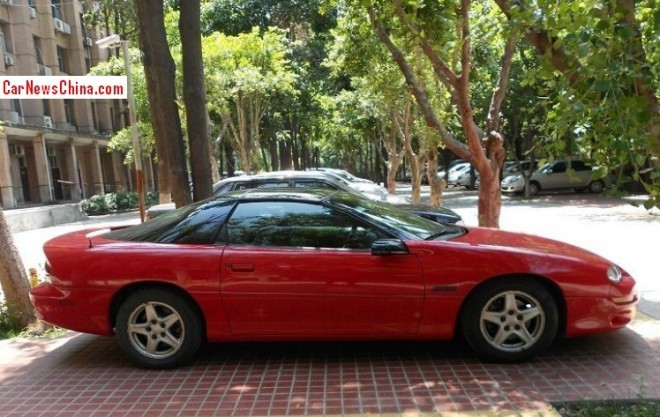 The speedy little sled seems to be in near-perfect condition which is remarkable because the fourth generation Camaro was never officially exported to China so parts and expertise are hard to get. The Camaro Z28 was the fastest and most powerful variant of the 4th generation Camaro.
The facelifted 1998 Camaro Z28 was powered by the 5.7 liter LS1 V8 engine that also powered the Chevrolet Corvette C5. Output was a very impressive 345hp and 470nm, good for a 265km/h top speed.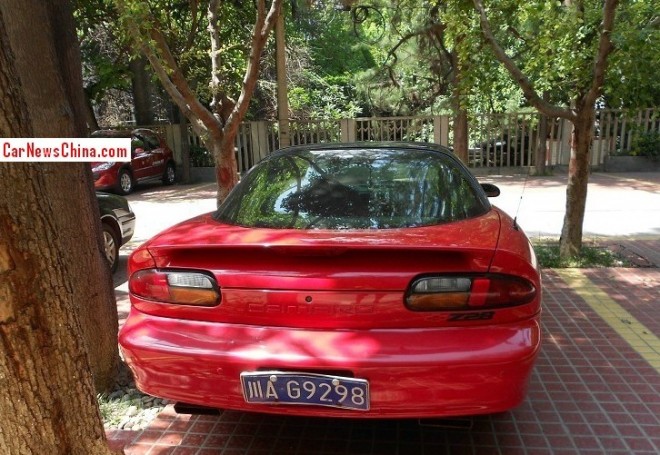 Too bad GM never exported the Camaro to China, it sure would have been a best seller. China just loves the fast Chevy, and even more so after the Transformers movies started to roll. Time now, for our Famous China-Chevrolet Camaro Collection™: filming Transformers 4, SS with skulls, matte black, second generation, Transformers Edition, in gold, Manchester United, with babe, police, red SS, old convertible, only yellow.