A very fast Ferrari California, seen at a car wash shop just outside the Third Ring Road in east Beijing, the very same place where I also met a BMW Z4 with a license. The good California has been wrapped in a matte red wrap, and was further sexes up by a matte gray window frame, matte gray mirrors, tinted windows, tinted headlights, matte black 5-spoke alloys, and red brake pads.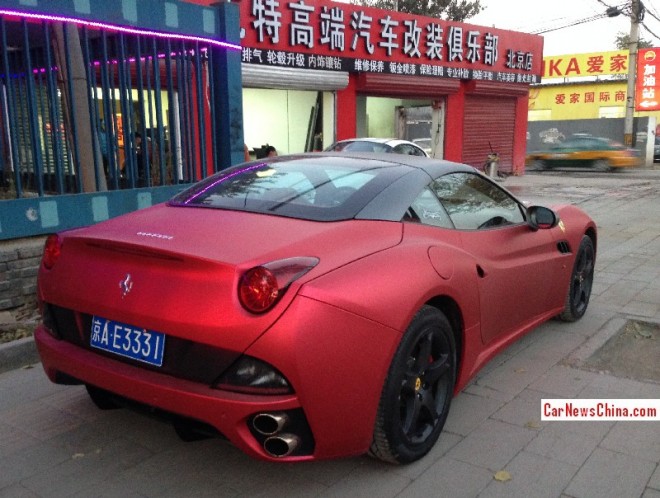 The wrap seems to be of very high quality and is applied neatly over the bumpers and spoilers. Diffuser is left in black for contrast with matte red body work. The Ferrari California is sadly not a very popular sporty car in China, Chinese car buyers consider it too girly and now powerful enough. This particular example however loox almost manly indeed. Price in China starts at 3.52 million yuan. Power comes from a 4.3 liter V8 with 490hp and 505nm.
We don't see many around, so our collection is very small: seat covers, crashed, burned, pink, and with 458.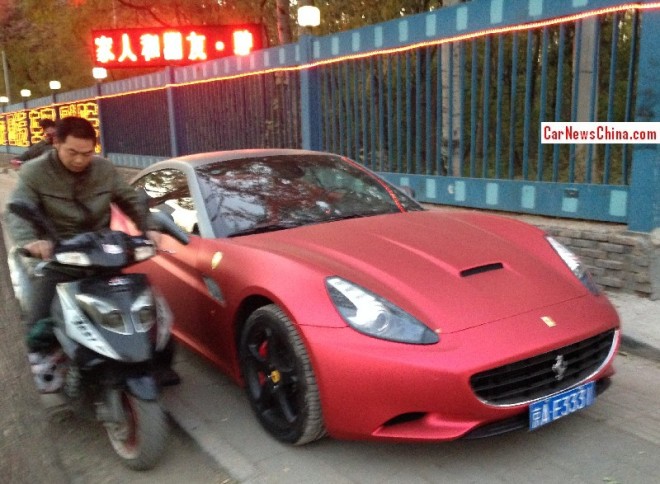 Ferrari selfishly parked on pavement. Scooter driving selfishly on pavement. I almost got hit by it!