A very rare and fiery red Ferrari 575 Superamerica, spotted in China by Star080 in the great city of Zhengzhou, capital of Henan Province. License plates are of Guangdong Province, indicating this Ferrari made a 2000 km ride straight through central China. Roof open, and hit those country roads…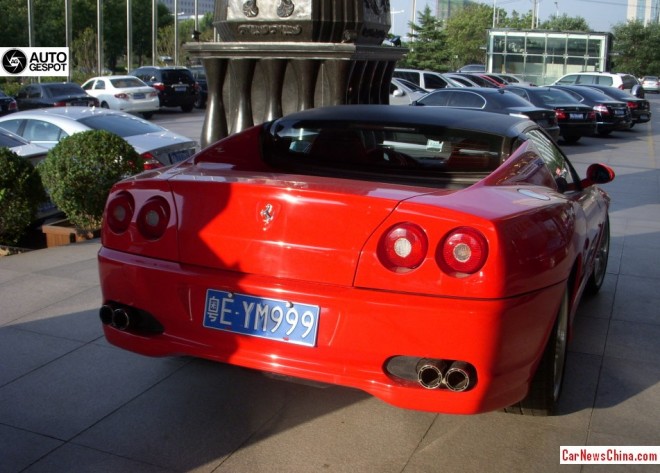 Ferrari 575M Superamerica was a special convertible version of the 575M Maranello. It featured an electro-chromic glass panel roof which rotated 180° at the rear to lie flat over the boot. The Superamerica arrived in 1995 and only 559 examples were built, making it one of the rarest Ferrari super cars of all time. Power came from a 5.7 liter V12, in the Superamerica good for 533hp. Top speed was a mad 320km/h.
The Ferrari 575 was never officially exported to China so meeting one is very special. So far we only saw one other Ferrari 575 in country.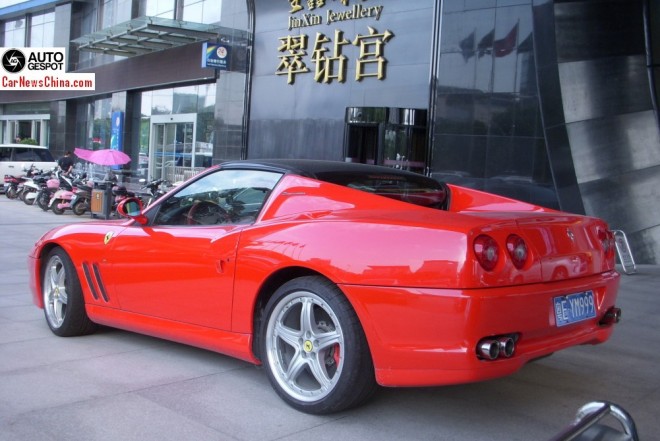 She is, in perfect condition. This fantastic Ferrari is the fifth spot coming from our new joint-spot-operation with AutoGespot.com, the largest car-spotting website in the universe. Earlier on we had a DMC Aventador, a Porsche Carrera GT, a Pagani Zonda Cinque and a matte black Bentley. More on the way…