A hyper sonic DMC Lamborghini Aventador LP900-4 SV Limited Edition, seen in the great city of Chengdu in Sichuan Province. The Aventador LP-900 SV is one of the maddest super cars in the world today. German tuner DMC fitted a speedy body kit and tuned up the V12 engine to 900 horses, good for a rumored top speed of 400 kilometers per hour. Green power!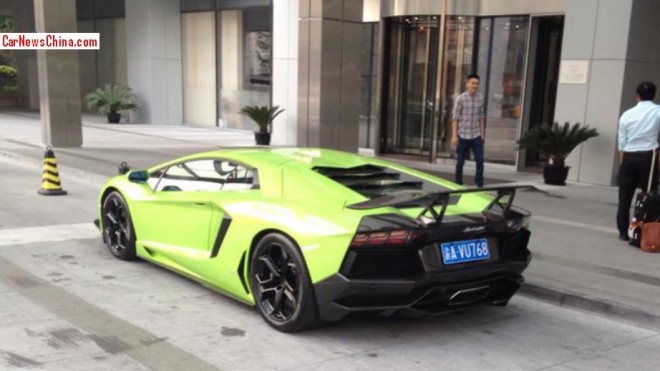 Lamborghini will come with its own official Aventador SV, but it won't have anywhere near to 900hp, staying close to only 700 horses instead. The DMC SV will cut the crap out of that. The official SV will be limited to max 500 cars, which sounds very exclusive and such, but the DMC LP 900-4 SV Limited Edition is limited to only 10 cars. Earlier on we met the unlimited DMC LP900-4 SV in Shenzhen. Same power, but less wings.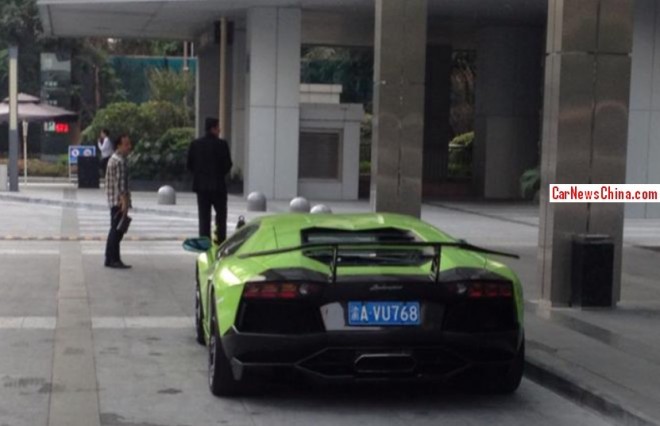 Time now, for our Famous China-Lamborghini Aventador Collection™: crash, sinking, yellow roadster, police & the replica, with 458, green-blue black,  shiny-lime green, black in Beijing, with Roller, Anniversario Edition, baby blue, Arsenal, white, shiny blue, with Lambo-friends, DMC LP900, crash, blue & orange, matte black,   strange alloys, with monk, too many, matte-black, with horny babes, in mustard yellow (scroll down), and impounded.
This fantastic super car in China is the third spot coming from our brand new joint-spot-operation with AutoGespot.com, the largest car-spotting website in the universe. Earlier on we had a Porsche Carrera GT, a Pagani Zonda Cinque and a matte black Bentley. More on the way…