A very stealthy Bentley Continental Supersports coupe, seen on the road riding at considerable speed in the great city of Shanghai. The beastly Bentley is wrapped in a high quality matte black wrappe that is perfectly applied over the bumpers and, somewhat strangely, only over the upper part of the mirror. The Supersports is further porned up by a black grille, black windows, slick-like tires and fantastic 8-spoked black alloys.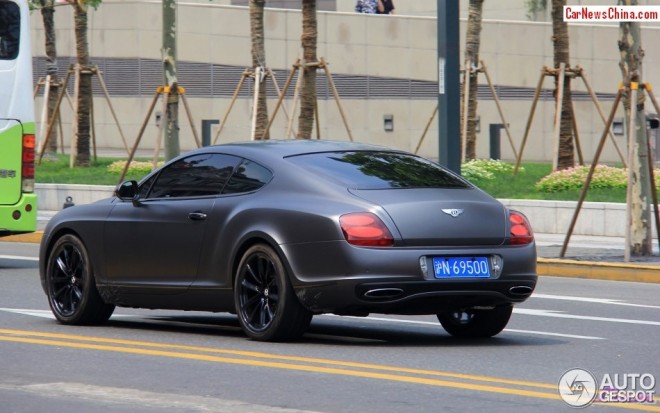 The Bentley Continental Supersports was the most powerful road legal variant of the first generation Bentley Continental GT. The Supersports arrived in 2009 and production continued until late 2011. Power came from souped up version of the 6.0 W12, delivering a mighty 630hp and 800nm, good for a 329km/h top speed and a 3.9 seconds 0-100.
The Continental GT is the most popular Bentley in China. Here is our Famous China-Bentley Continental GT Collection®: matte black, Pink, matte purple, very lucky, black in the rain, matte white Mansory, white Hamann, purple pink, gold black, matte black, Bling, pink, and another matte black.
The Continental is the second spot coming from our brand neww joint-spot-operation with AutoGespot.com, the largest car-spotting website in the world. Earlier on we had a Pagani Zonda Cinque. More on the way…