A wondrous white 997 Porsche 911, Spotted in China early in the evening in central Beijing. The good Porsche was wrapped in an eye-easing matte white wrap, and further sexed up by a black roof, tinted windows, a red interior with lots of leather, and very speedy stealthy matte black five spoke alloys.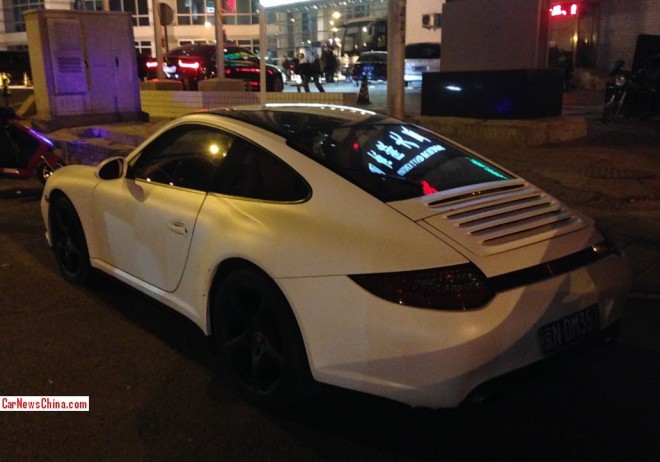 Chrome around the side windows contrasts nicely with matte black and matte white. The wrap was of high quality and correctly covers the bumpers, mirrors and door handles. The 997 911 was manufactured from 2004 until 2012 with a facelift in 2009, this white Pooh is a facelifted example. There were no badges on the back but it seemed to be a basic 911 Carrera, powered by a 3.6 liter boxer engine with 340 German horses.
The Porsche 911 is one of the utmost popular sportycars in China. Here is our Famous China-Porsche 911 Collection™: 50th Anniversary, matte gray, 996 GT3, Pink Cabrio, matte orange, with tiger girl, license (911HY), body kit, license, shiny green, shiny blue, baby blue,  991 Turbo prototype, 911 Turbo S, 993 Carrera RS, pink cabrio, matte black, matte black 911 GT3, 964 911 RS America, yellow 964 911, pink 996, shiny blue, orange, Edition 918 Spyder, matte-black, pink, ugly body kit, gold, and the China-only Anniversary Edition.