A very clean and very mean 996 Porsche 911 GT3, seen on the Beijing Tuning Street here in the Capital. The speedy Porsche was sexed up considerably by a plastic-fantastic body kit, black racing stripes, a Forgiato sticker on the windshield, black Forgiato alloys, and blue & black mirrors.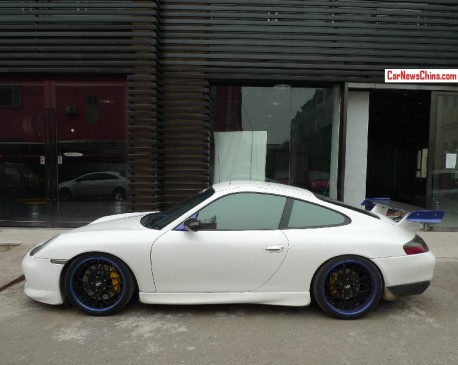 The blue on the alloys is the same blue as the blue on the mirrors and the same blue as the blue on the side-winglets attached to the wing on the back. The Porsche 996 911 was made from 1998 until 2004, and the GT3 arrived in 1999. The GT3 is powered by a souped-up version of the mighty 3.6 liter flat-six, good for 380hp and 385nm. Top speed is 310km/h and 0-100 is gone in 4.5 seconds.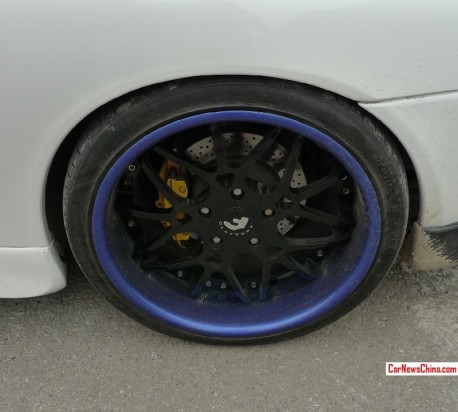 Wheels barely fit under the arches, looking very racy.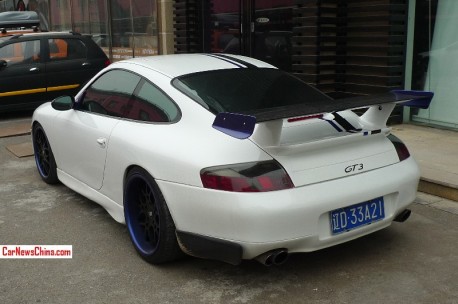 Giant wing in Porsche GT3 RS-style.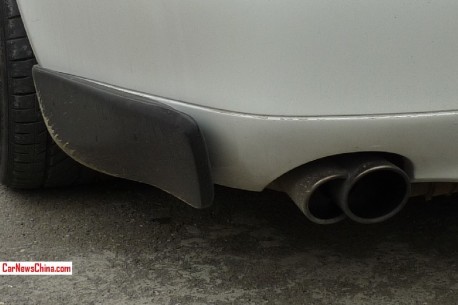 Original single-pipes replaced by this rather special double ensemble. Extra black plastic behind the rear wheel only adds weight but loox very racy again.
A great looking great Porsche! Time now, for our Famous China-Porsche 911 Collection™: Pink Cabrio, matte orange, with tiger girl, license (911HY), body kit, license, shiny green, shiny blue, baby blue,  991 Turbo prototype, 911 Turbo S, 993 Carrera RS, pink cabrio, matte black, matte black 911 GT3, 964 911 RS America, yellow 964 911, pink 996, shiny blue, orange, Edition 918 Spyder, matte-black, pink, ugly body kit, gold, and the China-only Anniversary Edition.