A very stealthy Porsche 911 Carrera 4, seen parked in front of the Solona shopping mall in central Beijing. The speedy Poo was wrapped in a stunning matte gray wrap of the very highest quality, extending perfectly over the bumpers. But!, not over the mirrors where the artist thought it would be artistry to create a half-matte gray wrap and half-light gray wrap ensemble.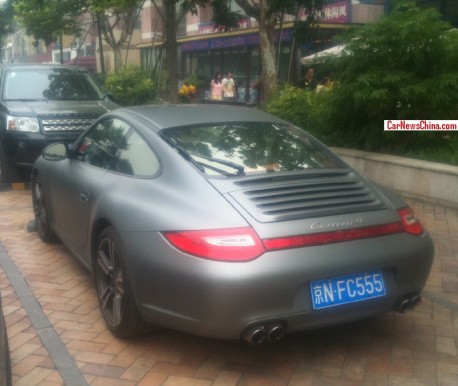 Fortunately no such wild experiments at the back where all is smooth and all is good. Racy 5-spoke alloys are in matte gray too. The 997 Porsche 911 Carrera 4 was powered by a 3.6 liter flat-six which pooped out 340hp and 380nm, good for 285km/h and 4.8 seconds. Stealthy Speed!
Time now, for our Famous China-Porsche 911 Collection™: 996 GT3, Pink Cabrio, matte orange, with tiger girl, license (911HY), body kit, license, shiny green, shiny blue, baby blue,  991 Turbo prototype, 911 Turbo S, 993 Carrera RS, pink cabrio, matte black, matte black 911 GT3, 964 911 RS America, yellow 964 911, pink 996, shiny blue, orange, Edition 918 Spyder, matte-black, pink, ugly body kit, gold, and the China-only Anniversary Edition.