A giant stretched Ford F-150 Raptor, Spotted in China in the great city of Quanzhou in Fujian Province. The good Raptor was extended by at least t meter, it has a heightened roof, gullwing doors at the back, and a tent covering the bed. a very interesting conversion for a race truck.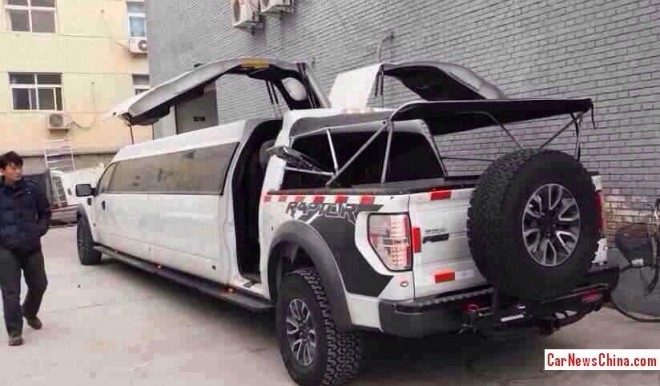 Check tent! Great for a party in the rain. The Ford F-150 Raptor is a very popular super truck in China but for some reason Ford doesn't want to sell it on the Chinese car market, so the gray dealer-to-dealer networks earn all the money. The origins of this F-150 limousine are a bit vague. The vehicle was offered for sale in Beijing in October last year, but the photos in the ad were taken somewhere in the USA. A member of F-150Forum.com posted a pic of the vehicle in December last year, with another member saying he had seen it at JDM Engineering in New Jersey.
It seems thus most likely that the conversion was done in America for a buyer in China. Anyway and how, it's in Quanzhou now. A few other notable Ford Raptorii we met in China: police car, Jiangnan Chunzhou, white crew cab, in red, with a hot babe, with army babes, and the famous JAC.
---