A very posh Porsche Cayenne, Spotted in China near Terminal 1 of the Beijing Capital Airport. The good Porsche is porned up to the max with an eye killing shiny glitter orange wrap, and made even more pretty by a matte chromed roof rack, darkened windows, and side bars.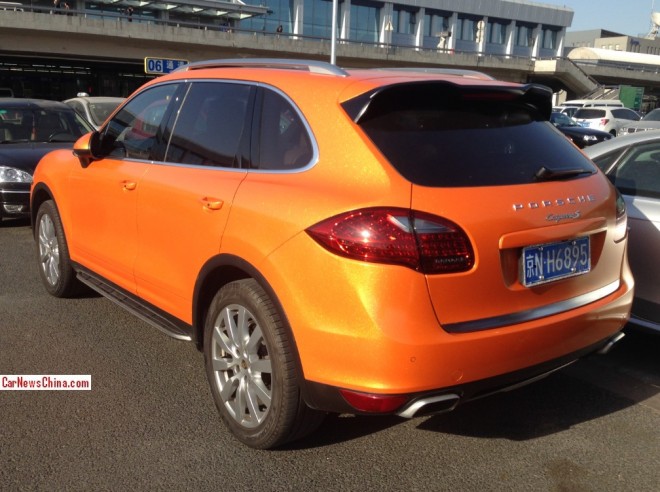 The wrap is of the highest quality, glittering away in the late afternoon sun. The wrap is correctly applied over the bumpers, door handles and mirror. Chrome strip around windows a tad too shiny, resulting in a slightly disappointing contrast.
The Porsche Cayenne S is powered by a 4.8 liter V8 with 400hp and 500nmgood for a 258km/h top speed and a 0-100 in 5.9 seconds. Shiny glitter orange speed! The Cayenne S costs 1.54 million yuan or 247.000 USD.
Time now, for our Famous China-Porsche Cayenne Collection™: Mansory, shiny purple, Mansory Turbo, shiny green, gold, shiny blue, Mansory 958, canary yellow, Luma CLR 558 GT, TechArt Magnum, baby blue, Hamann Guardian, a fish, pink, body kit, police car, matte black, broken with semi-naked girls, very pretty, Hamann Guardian,  stretched, pink, in gold, another stretched, in orange, with dog-pee, and French.