A very wacky Audi TT sporty car, Spotted in China just north of the Third Ring Road in Beijing. The good Audi is painted, no wrapping here!, in shiny orange paint, and further dressed up by tinted windows, partly black mirrors, matte black ten-spoke alloys, and a fatass wing on the back. Best thing however is the license plate reading TT350, and that is one of the best license plates we have seen on an Audi TT in China so far.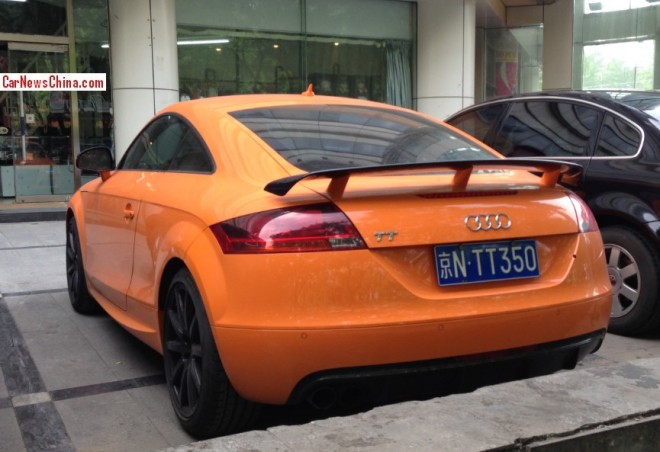 Interesting visual trickery with the wing and the mirrors. The stalks are in orange whereas the actual object is in black, seemingly hovering just over the vehicle.
The Audi TT is not a very popular car in China as buyers find it a bit too expensive. Price of the current model starts at 519.000 yuan and ends at 592.000 yuan, and the new TT certainly won't be any cheaper. Still, we have a Famous China Audi TT Collection™: Pink, license (7TT70), Pink, girls & Lambo-doors, pink-orange, gray-blue, red R8, big wing, kiddie ride, gold, children, orange, with tree, pink, and purple.
---

Recommended: