An extremely beautiful W126 Mercedes-Benz 560 SEL, Spotted in China on a car market in Beijing by Reader & Serial Spotter Navigator 84, thank you for the pictures! The big Benz appears to be in perfect shape. Chrome is shining, paint is fresh, no rust around, and the engine likely sings like a baby bird. It is a U.S. spec car, recognizable by the slightly odd headlight design (compare with Euro car).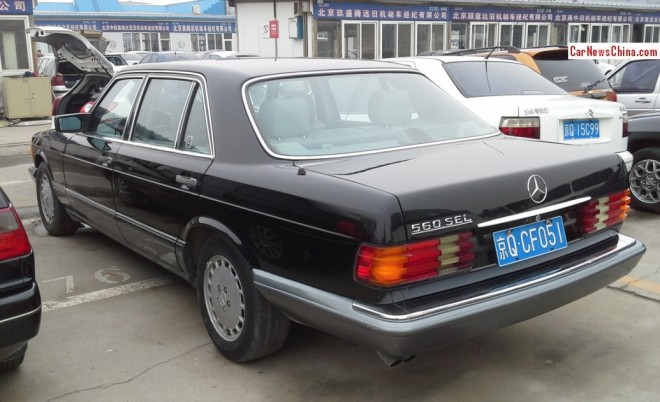 The 560 SEL is the absolute top spec W126 S-Class. The L stands for 'lang' meaning 'long'. And long it was, stretched by 14 centimeter for a massive length of 5.160 meter. Power comes 5.6 liter V8 with an output of 268hp and 421nm, top speed was an impressive 250km/h.
The W126 was made from 1979 until 1992 but it was never officially exported to China. Some cars however were bought by the Chinese government and others arrived via diplomatic or other misty channels. We got us a small China-W126 Collection: black 560 SEL, abandoned, chery red, US-spec 560 SEL, sporty 560 SEL, S280, really stretched, 500 SEL, 300SE, and another abandoned.