A very hip 996 Porsche 911 Targa, Spotted in China just outside the Third Ring Road in east Beijing. The good Porsche is wrapped in a bright orange wrap and further porned up by darkened windows, darkened indicators, and fantastic old-school style shiny black five-spoke alloys. But best of all the the license plate reading YC911, and that is one of the very bets license plates we have seen on a Porsche 911 in China.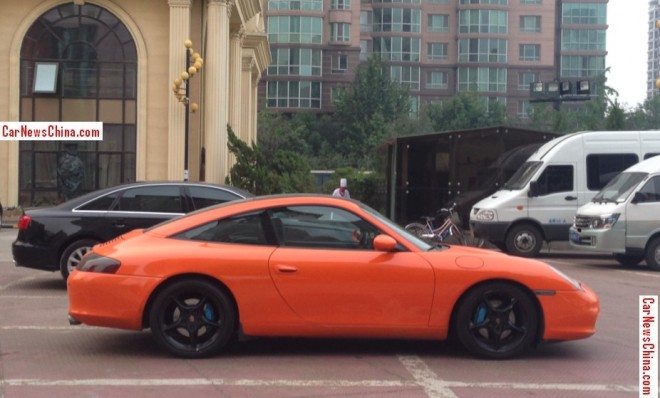 Black windows match perfectly with orange body. Wrap is of good quality and neatly extended over the bumpers, door handles, and mirrors, like we like to see so best! Brake pads are in blue, an interesting idea, and surprisingly matching well with silver brakes and black alloys. Orange 911 Porsches are popular in China, earlier on we met a matte orange Carrera 4 and a shiny orange GT3.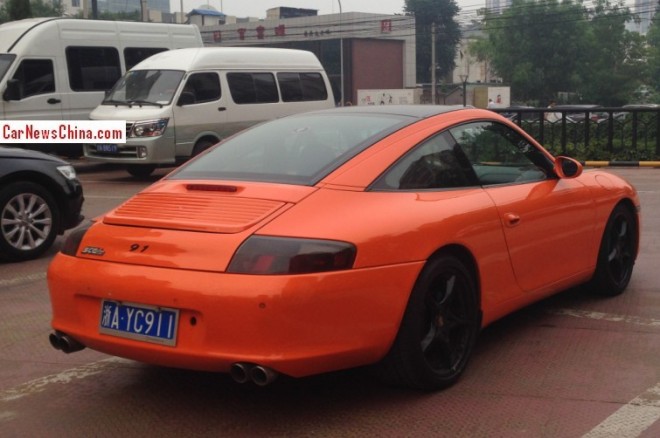 Darkened taillights. One 1 is missing. The 996 Targa was basically a coupe with an extra large sunroof.  Power came from the famous 3.6 liter flat-six with 320hp, good for a 280km/h top speed and 0-100 is gone in 5.2 seconds. Speedy orange Porsche! The 996
The 996 was manufactured from 1998 until 2005 and it was never officially exported to China, but some arrived  via the gray market or other misty-smuggle channels, for a lot of extra money. We have a very small collection: license, (fake) GT3, the other orange car, and Pink with Nismo.