An arsenic Audi A5 Coupe, Spotted in China in a nice old neighborhood in central Beijing. The good Audi is wrapped in an eye mystifying matte black wrap, and further assed-up with darkened windows, a darkened grille, and super sporty but slightly confusing matte silver alloys.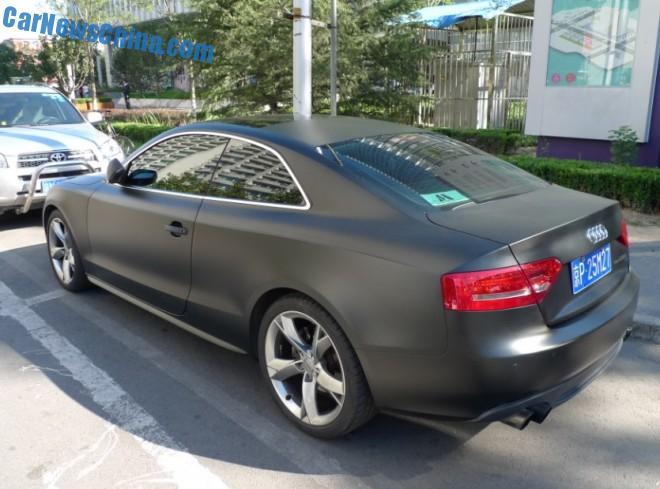 The wrap is top quality and perfectly extends over the bumpers, door handles, and mirrors; and that indeed is the threesome we would love to join! The chrome strip around the side window is a beautiful border dividing the matte black body and the black window. But what about matte black windows?! Never seen that. Yet. Double exhaust pipe indicates this particular car is a speedy S5, powered by a twin-turbocharged V6 petrol engine with 333hp and 440nm. Speed is Stealthy! And expensive. The S5 currently goes for 848.000 yuan or 138.000 USD.
Time now our Famous China Audi A5 Coupe Collection™: shiny blue, abandoned, giant mufflers, matte orange, lowrider, golden grille, matte blue, pink, : matte black and black & white.