A lunatic Lamborghini Murcielago LP670-4 SV supercar, Spotted in China in the great city of Foshan in Guangdong Province by Enjoy-LittleBee-Space. The mighty Murc' is wrapped in an eye maddening BAPE wrap, and further lamboo'd up with super sporty matte gray five-spoke alloys, darkened windows, and a huge ski box on the back, wrapped in BAPE as well.
The box is bolted on a frame which is ingeniously bolted to the roof of the Lamborghini. The frame looks quite speedy, with very thin fin-like pillars, and it is constructed in such a way that the massive rear wing might still work properly.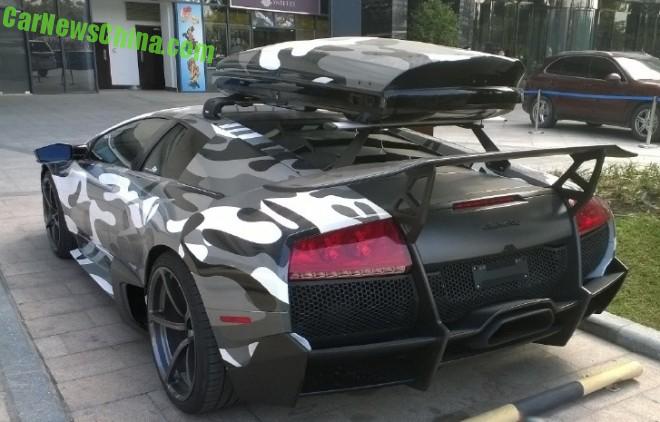 Going up mountain with this monster will be an adventure. It has four-wheel drive, but also a 6.5 liter V12 with 670hp and 660nm, good for a top speed of 336 kilometer per hour. The ski box will likely slow the Lambo down a little bit.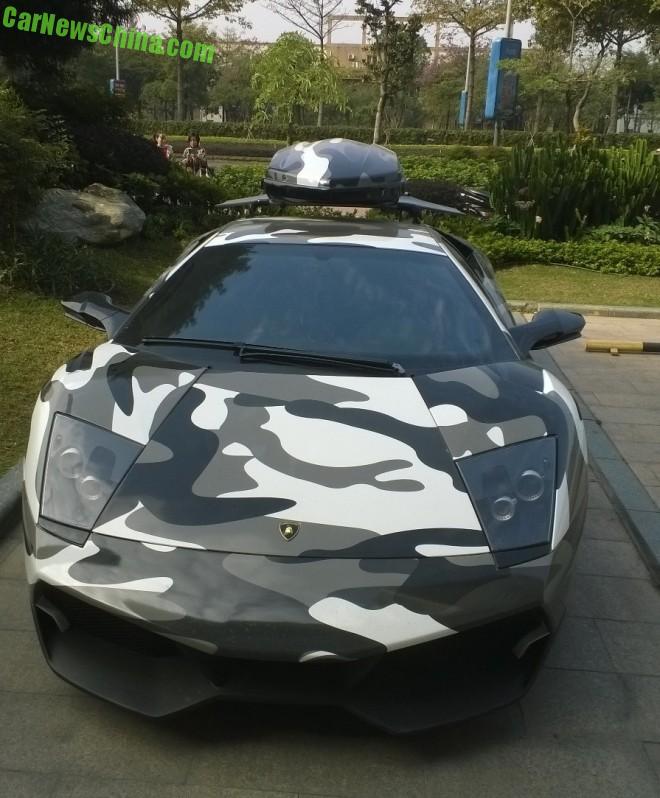 BAPE refers to Bathing Ape, a oh-oh-so cool hip hip hop gangsta clothing brand from Japan that uses similar camouflage patterns in their designs. The brand has suddenly become very popular in the Chinese tuning scene with many shops offering BAPE-like wraps. Earlier on we met a BAPE 458, a BAPE M5, a BAPE SLS, a BAPE Suzuki Alto Happy Prince and a BAPE MP-4 12C and 458 combination.