A very mad Mercedes-Benz SLS AMG super car, Spotted in China in the great city of Chengdu in Sichuan Province by spotter InHeaven. The manic Merc was wrapped in an almost psychedelic BAPE wrap in blue, brown, dark blue, and white.
BAPE refers to Bathing Ape, a hip hip hop gangsta clothes brand from Japan that uses similar camouflage patterns in their designs. Earlier on we met a BAPE Suzuki Alto Happy Prince and a BAPE MP-4 12C and 458 combination.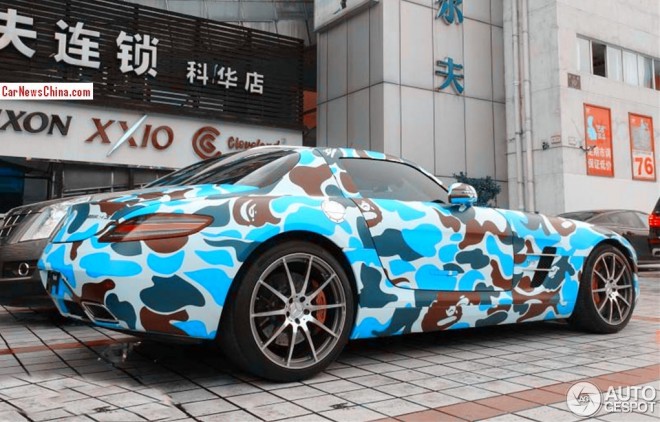 The wrap seems to be of the highest quality and is neatly extended over the mirrors, door handles and bumpers. The vehicle is slightly sexed up further by brown brake pads and tinted windows.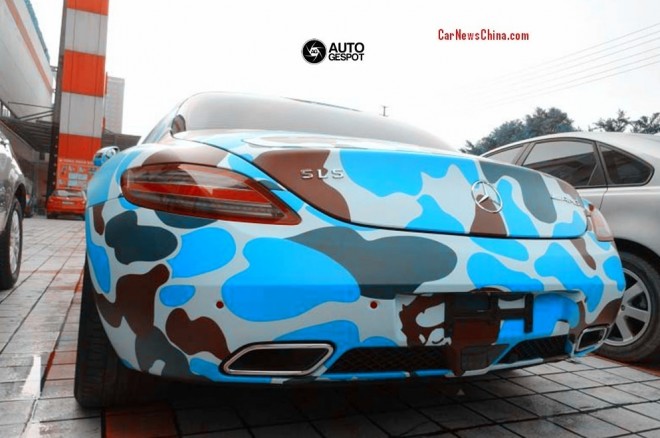 The SLS AMG is one of the most popular super cars in China ever, and still available new, although that won't last very long anymore. Price starts at 3.62 million yuan or 590.000 USD. Power comes from a rumbling and bumbling 6.2 liter V8 with 560hp and 650nm, top speed is 317km/h and 0-100 is gone in 3.8 seconds.
Time now, for our Famous China-SLS AMG Collection™: with F12, selling house with girl, license (AMG991), with Aston, yellow or green, gold, with babe on bonnet, purple, pink, bag trousers, pink-silver, bling (scroll down), crash, and a  Mansory Cormeum.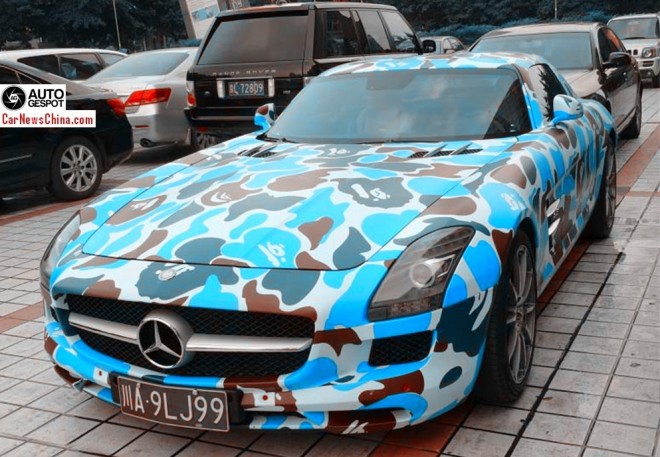 Black license plates were issued to foreign funded companies operating in China from the early 1980's until 2003. No new black license plates have been issued ever since and foreign companies have moved on to blue license plates like the rest of the country. The plate on this SLS does look rather old indeed. Is the owner trying to fool the police here? Bad BAPE Benz!
This super sonic SLS is the eight spot coming from our new joint-spot-operation with AutoGespot.com, the largest car-spotting website in the universe. Earlier on we had: Ferrari double, weird Gallardo, Ferrari 575M Superamaricana,  DMC Aventador, Porsche Carrera GT, Pagani Zonda Cinque and a matte black Bentley. Much more on the way…
---