New Spy Shots of the Beijing Auto BJ80 testing in China. The BJ80 debuted in concept form on the 2014 Beijing Auto Show but development started way back in 2011. There is a civilian version and various military versions, although the exact designations have changed a lot over time. The latest news: the civilian version will be called BJ80C, and the military version will be called BJ80J.
Design of the BJ80 is inspired by the Mercedes-Benz G-Class. Beijing Auto and Daimler-Benz are very close; they have the successful Beijing-Benz joint venture and in 2013 Daimler bought a 12% stake in BAIC, the parent company of the Beijing Auto brand.
Persistent rumors say Daimler was very unhappy with the BJ80 and tried to convince BAIC to kill it, which the main reason the BJ80 is still not on the market, according to the same rumors. It now appears parties have reaches some sort of compromise. Furthermore, the army is heavily involved in the development of the military version, which makes a complete kill of the car impossible. The BJ80 is coming, no matter what. The civilian version is now scheduled for launch in Q3, with a price starting around 30.000 yuan.
Interior very G as well.
Over the years of development we have heard of many engines that would or would not power the BJ80. The civilian version will likely get a 2.0 turbo petrol or a 2.3 turbo petrol, while the military version will get a 2.7 liter diesel or a 3.2 liter diesel. The exact line-up might change a zillion times right up until launch; business as usual for BAIC. We will keep you posted.
We have the size though: 4780/1850/1975, and wheelbase is 2800.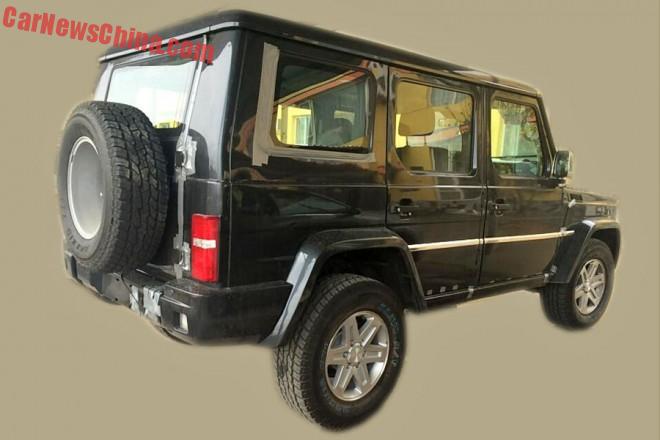 Not a G-Class. This the Beijing Auto BJ80C from China.