Production of the brand new Weichai Auto Yingzhi 737 mini MPV has started in China, it will be launched on the Chinese car market in September, priced from 50.000 to some 70.000 yuan. Design is on the hip side for the segment, with a heavily chromed grille, huge headlights, huge mirrors, and a daring knack in the window line on the passenger doors.
The name of the vehicle was inspired by the Boeing 737 passenger jet, pictures of which were proudly displayed on a backdrop in the Weichai Auto factory.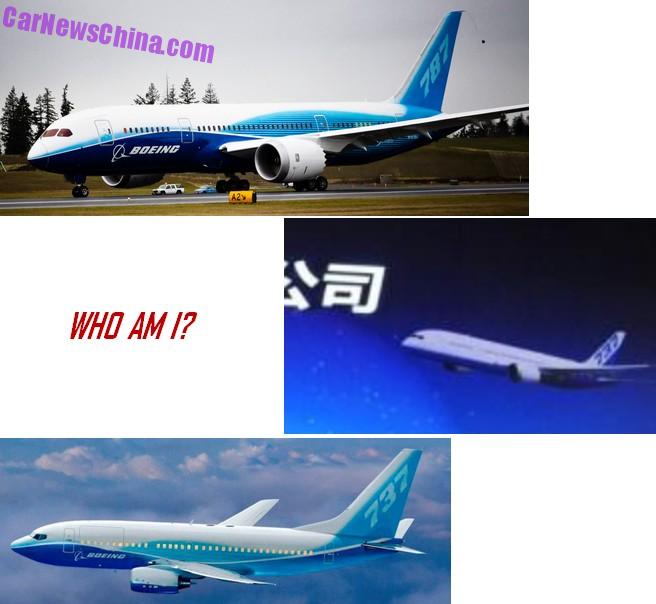 The jet on the backdrop however appears to the a 787 Dreamliner, with a 737 logo Photoshopped on the tail. Confusing…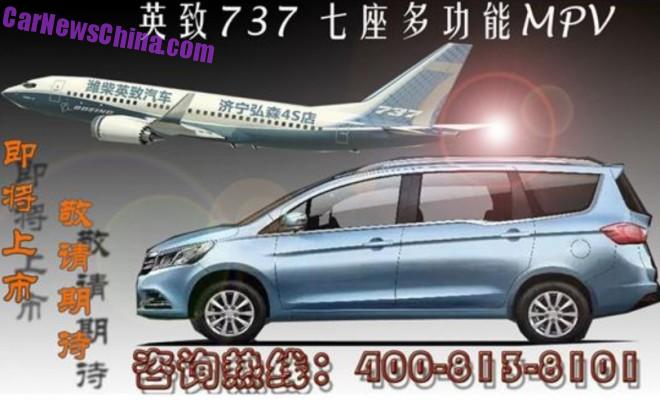 A Weichai Auto dealer ad got it right. That indeed is a Boeing 737.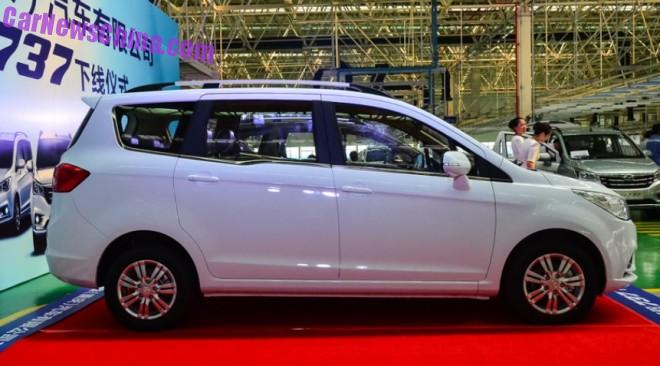 The Yingzhi 737 will compete with fine cars like the Baojun 730, the Xiaokang Fengguang, the Changan Ounuo, the Lifan Lotto, and the Weiwang M20. Many more Chinese car buyers living in the cities fall for the practicality of a mini MPV, choosing one over the standard sedan. The MPV's seat seven plus a dog, don't use much fuel, and are small enough to park anywhere.
There will be two four-cylinder petrol engines available: a 1.5 with about 120hp and a 1.5 turbo with about 15-hp, both will be mated to a five-speed manual or a CVT.
Size: 4508/1760/1715, and wheelbase is 2785.
Weichai Auto is a brand new car brand owned by Weichai Power (web), one of the largest Chinese engine makers and sponsor of the Ferrari F1 team.  The company is based in Weifang, Shandong Province. Yingzhi is the brand name, called Enranger in English. Their first car, the Yingzhi G3, was launched in August last year.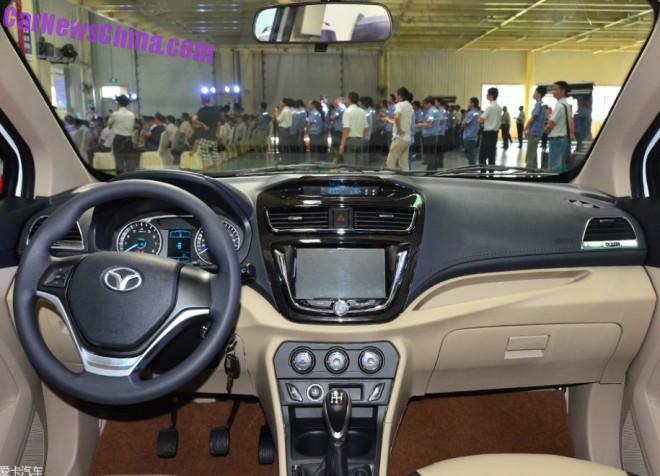 This is the dashboard of the base version, mixing all kinds of colors and shaped to a more or less coherent picture. Big display in the center console and another small one on top.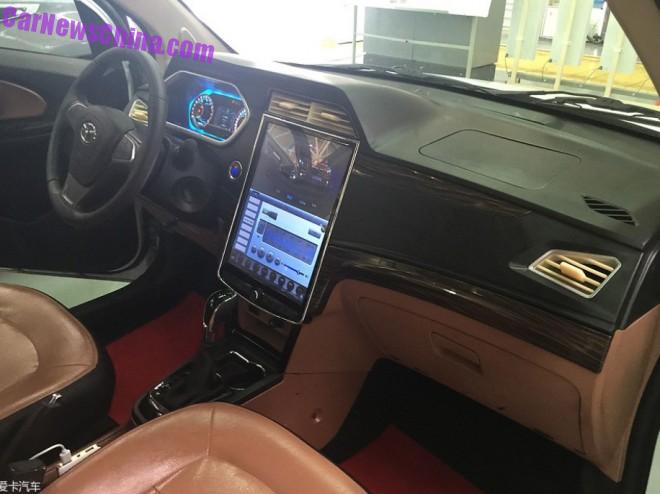 This however is the Big Deal and the one Weichai promised us. A truly giant touch screen and an all-digital instrument cluster. They had a mock up in the factory but the system sadly won't be ready for launch in September. Shape of the dash is completely different and making two dashboards for one rather cheap car seems too expensive to manufacture, so we guess this dash will only launch with a facelift of the 737 or a with a new generation.
[Update:] the super screen will be standard on the top-spec variant of the 737. Weichai don't care about no production cost or any of all that. [/Update]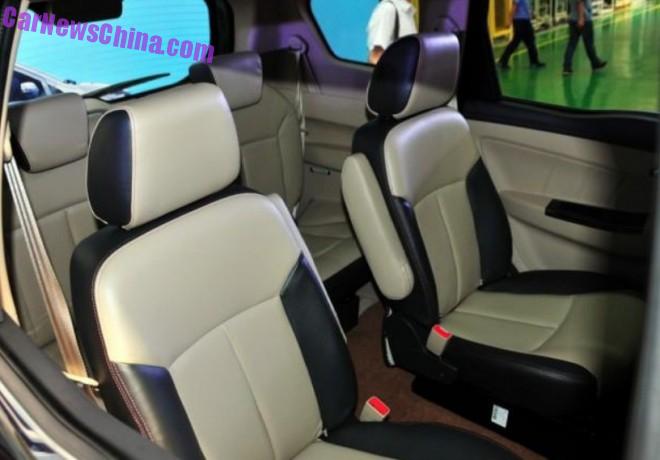 Like all mini MPV's the 737 is a 'seven-seater'. Configuration is 2+2+3, but the rear bench is really only big enough for three very small children.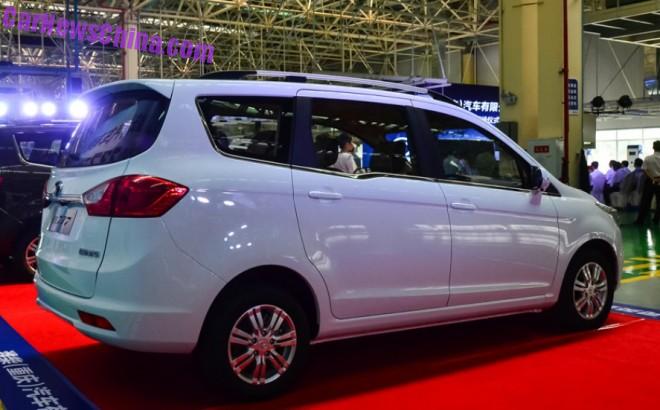 Roof rails look perfectly functional. Rear lights on the big side.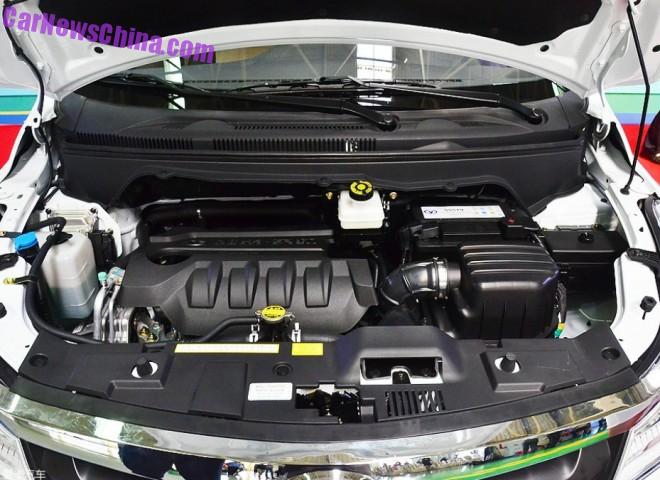 Engine bay neat and clean; pictured the 1.5 turbo.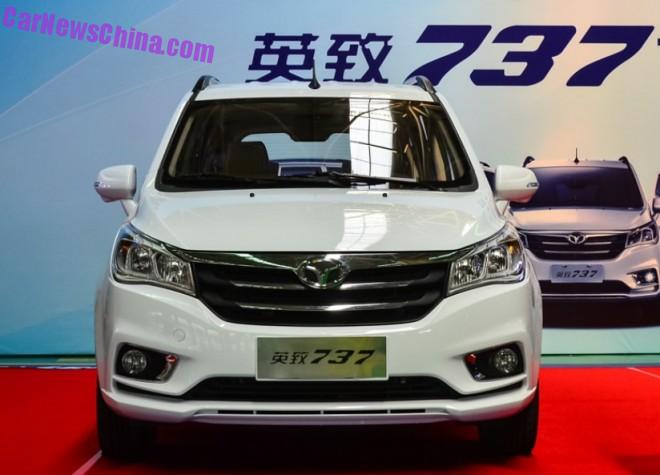 It's an airplane!