A red BMW in the boot of a Buick, Spotted in China on a snowy dirty day in the capital Beijing by Reader Lao Wei, thank you for the pictures! The BMW appears to be of the sporty kind, the Buick is a China-made Excelle.
This is the BMW in full glory, designated LB-8858. It is a children's electric toy car, for sale on Taobao for 488 yuan. It has all kinds of incredible, like an MP3 player, foldable mirrors, a movable seat, optional 'real' BMW badges, working LED lights, and fully independent active suspension. The vehicle can be fully remote controlled so dad can have some fun too. Top speed is a wild 3 kilometers per hour.
We like these weird electric cars very much. Earlier on we saw a Hongqi, a Bentley concept, a Laos Lais, an Angry Bird, fighting vehicles, and the BMW Vision Concept.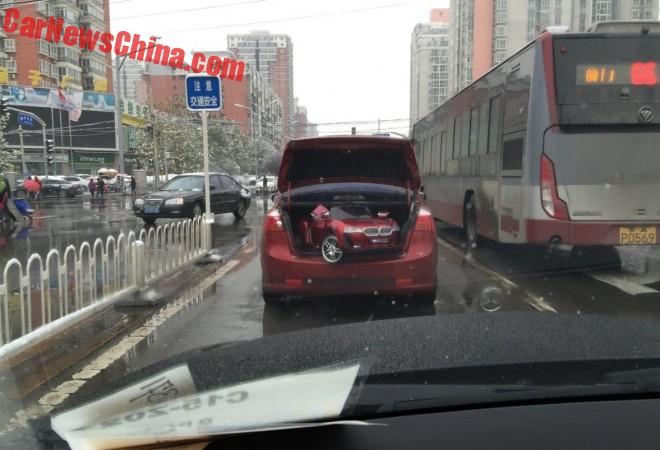 There goes the BMW. Guess she couldn't find enough traction in the wet.