A speedy white Ferrari 458 Italia supercar, Spotted in China on a parking lot in front of a hotel in Beijing. The good Ferrari has an extremely special license plate with four zeros, reading J·A0000. The plate is real and was originally issued sometime in the late 1990's.
Tinted windows, racy five-spoke alloys, and yellow brake claws.
In Beijing the license plate used to stay with the car. People could sell license plates or move them to other cars, but they had to prove that old car was either scrapped or had another license itself. Since 2013 the system has changed. The license plate now stays with the owner of the car, so the car can be sold, but the license plate cannot. The intention of this rule was to control the flow of license plates, and with that the registration of new cars. Its unintended result was that the second-hand car business almost died, no plates!, and that the very lucrative trade in license plates died completely.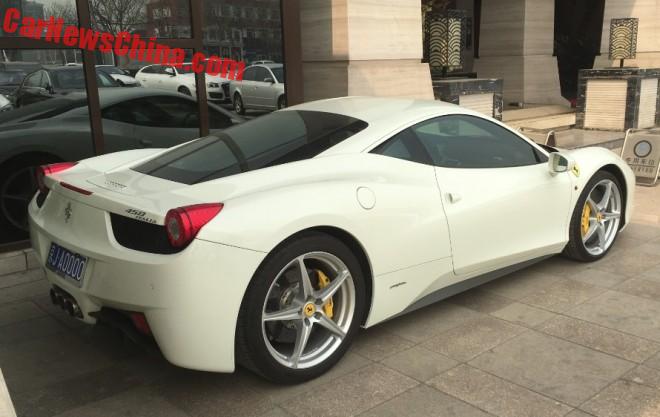 So the owner of this fine plate will keep it, basically until he dies. He can move the plate to any new car he buys, just as long as the old one gets either sold or scrapped. If he sells the car he has six months to buy a new one, otherwise the license will expire and automatically return to the local government. These license plate rules differ per city, they are set by the local municipal governments.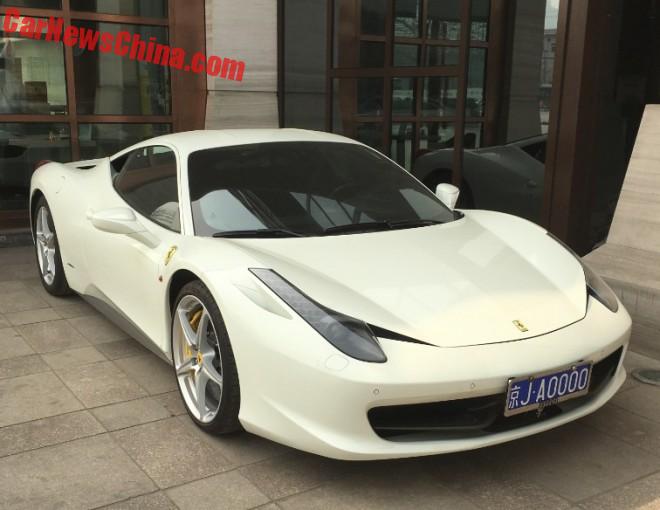 The Ferrari 458 was a very popular sporty car in China. Price started at 3.88 million yuan or 636.000 USD. Lotta money, but lotta power. The screaming 4.5 liter V8 pooped out 570hp and 540nm.
Time now, for our Famous China Ferrari 458 Italia License Plate Collection™: license (458BO), license (458E6), license (458TI), license (FE458), license (458TK), license (B·IC458), lucky license (PG888), license (MF458), license (KF458), license (OD458), license (FM458), license (458Z8) license (458F1), license (FF458) license (458OY), license (458AX), license (458MW).