The long-awaited Avatr 11 was finally launched in China. Avatr is a joint project between Changan New Energy, CATL, and Huawei. The 11 got 578 hp, 680 km of CLTC range, and a starting price of 349,900 RMB (51,800 USD). First deliveries will start in December this year. Let's get acquainted with the Avatr 11.   
Briefly About Avatr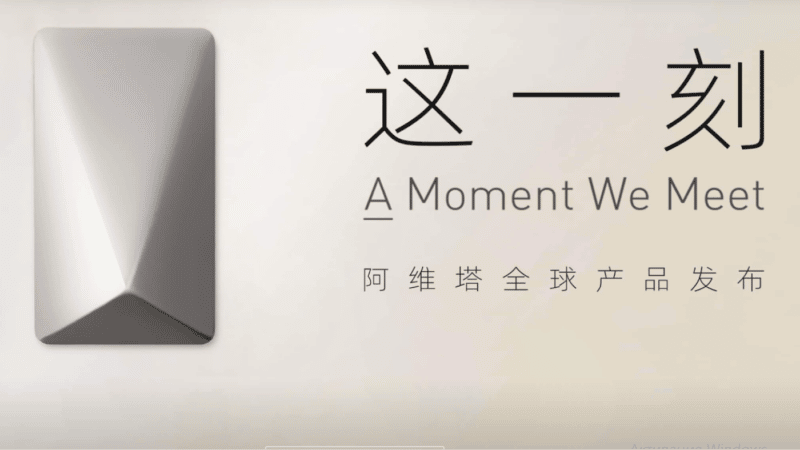 In 2018, Avatr was launched as a joint venture between Changan and NIO. Later, NIO withdrew from the JV. CATL replaced NIO as the second biggest shareholder. Right now, Changan holds 40.99% of shares, and CATL owns 17.1%. We should underline that Huawei has no shares in Avatr. It only takes care of Avatr cars' hardware and software for intelligent driving, connectivity, and infotainment. Huawei also supplies electric motors and some other parts. Recently, Avatr announced it will cooperate with U.K. oil giant BP to create a fast-charging network in China. All in all, Avatr develops rapidly. Now, let's get to know its first EV better.
Avatr 11 Specs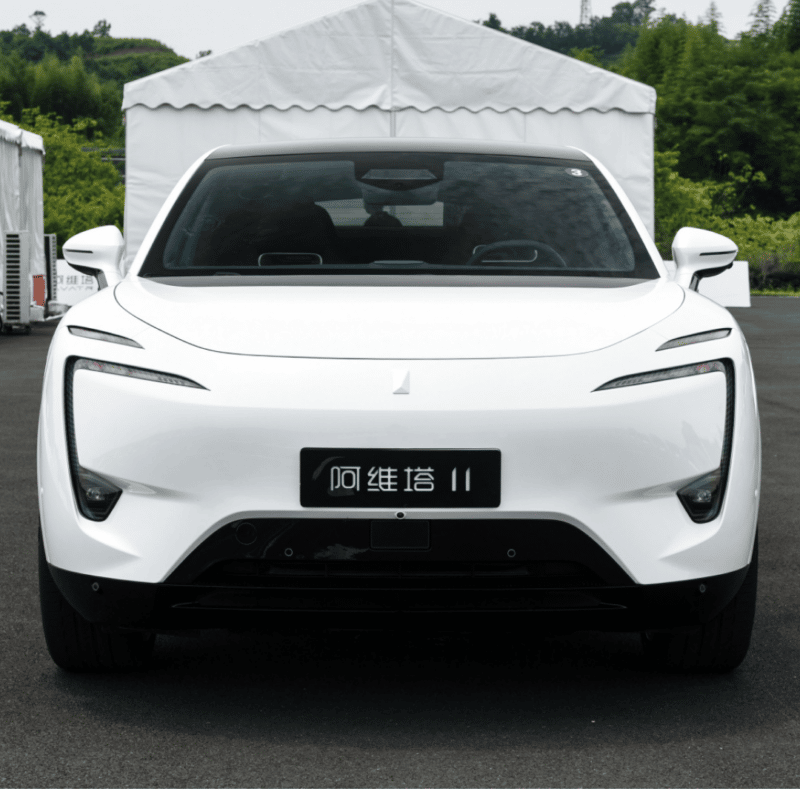 Let's start with some basic information about the Avatr 11. It is an all-electric mid-size SUV-coupe that stands on the EP1 platform. Changan, CATL and Huawei jointly developed its smart platform called CHN. The 11's exact dimensions are 4880/1970/1601 mm with a wheelbase of 2975 mm. In terms of size, it is close to the Voyah Free and the NIO EC6. The Avatr 11 gets a 4- and 5-seat layout.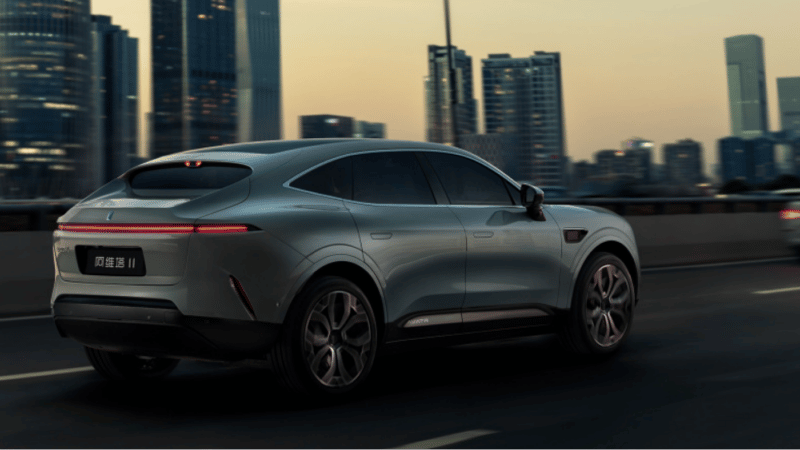 As for the powertrain, it comprises two electric motors for 425 kW (578 hp) and 650 Nm. The front motor generates 195 kW (265 hp), and the rear one has a power of 230 kW (313). Huawei makes each of them. The Avatr 11's zero-to-hundred acceleration takes 3.98 seconds. As for top speed, it is limited to 200 km/h.
The 11 has two optional ternary (NMC) batteries made by CATL. The entry-level battery has a capacity of 90.38 kWh for 555 km of CLTC range. As for the top-trim level, it has an 116.79-kWh battery of 680 km. The Avatr 11 is also capable of 240-kW charging. As a result, it can charge up 200 km in 10 minutes.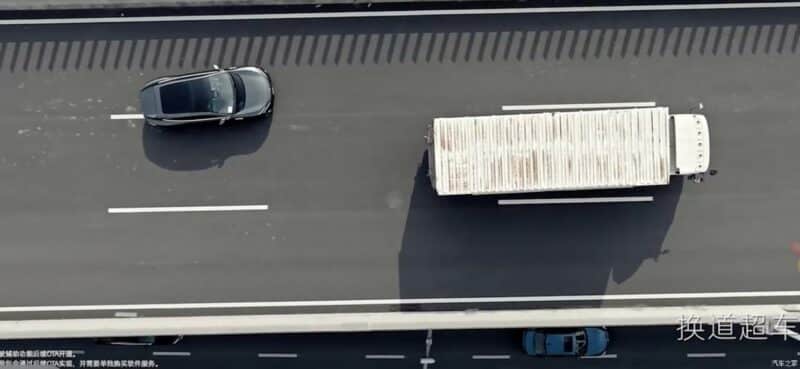 The Avatr 11 got AVATRANS intelligent driving system on board. It comprises 34 different sensors, including 3 LiDARs. The computing power of this system reaches 400 TOPS. Avatr says its intelligent driving system will be useful on highways, downtown roads, etc. It supports lane change assist, pedestrian detection, traffic light recognition, etc. Worth mentioning that some of the functions require a subscription.
Avatr 11 Exterior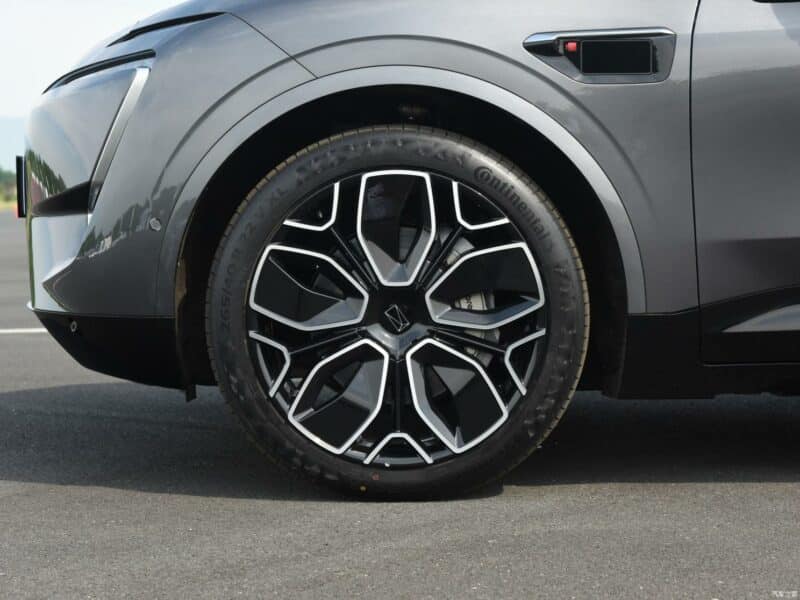 We've already mentioned the dimensions of the Avatr 11. Now let's look at its styling. The Avatr 11 looks like a vehicle from another planet. Mainly because of thin headlights, smooth body shape and unique proportions. Its exterior also got some pleasant touches like frameless glass, retractable door handles, a thin taillight strip, etc. The 11 got R21/R22 wheels with 4-piston Brembo brake calipers.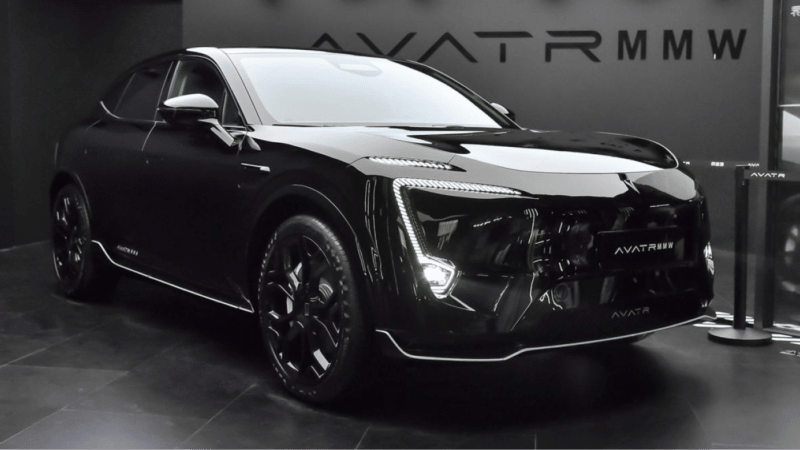 Worth mentioning that the Avatr 11 got seven body colors: Snow-white (皓白), Dark gray (墨灰), Red (慕红), Clean white (素白), Foggy green (雾绿), Light gray (曜灰), and Black (光影黑). The last color goes only with the Avatr 011 MMW – a special edition, designed with Givenchy.
Avatr 11 Interior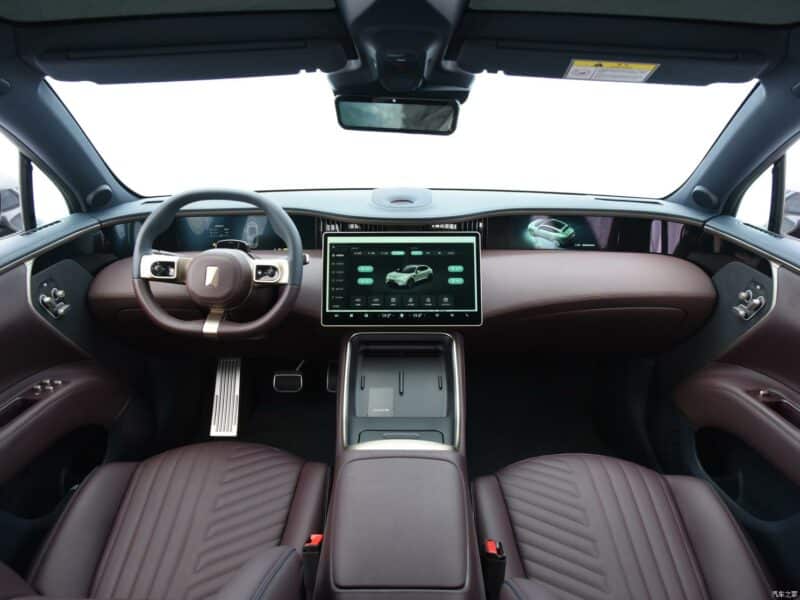 The interior of the Avatr 11 is modern and hip. Its center console has three screens. The main monitor's diameter is 15.6 inches. The Harmony OS from Huawei powers it. Voice and gesture control are some benefits of this system. As for the instrument panel and the passenger screen, they both are 10.25-inch. The Avatr 11 also gets a hexagonal sporty steering wheel. The center tunnel has a huge wireless charging pad for two phones and hidden cup holders. There is a spacious room under it. As mentioned, the Avatr 11 got two seat layouts. The entry-level cars have four seats, and the top-trim got four.
Another feature of the Avatr 11 is its sound system. It comprises 14 speakers and a 12-channel power amplifier. It is also equipped with RNC (Road Noise Cancelation) and ASE (Active Sound Enhancement) systems. There are four color schemes of the Avatr 11's interior: Burgundy (勃艮第红), Light gray (青灰), Dark Black (墨黑), Black (黑色). The last one belongs to the 011 MMW.
Worth underlining is that the Avatr 11 has two trunks. The first is in the back with yet unknown capacity. As for the second, it is located right under the hood. Its capacity is 95 liters.
Avatr 11 Pricing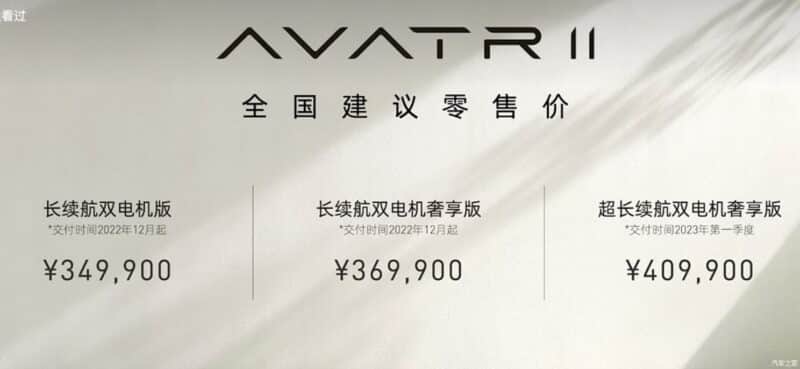 The entry level Avatr 11 costs 349,900 RMB (51,800 USD). It has 578 horses and 555 km of CLTC range. The second trim level adds leather seats and automatic door opening and closing system. Its price tag is 369,900 RMB (54,785 USD). The third-trim level got the same power output and a 680-km range. Its price reaches 409,900 RMB (60,700 USD). And last but not least is the Avatr 011 MMW special edition. It costs 600,000 RMB (88,865 USD). Deliveries of the 11 with 555 km of range will start in December this year. The version with 680 km of range will hit the market in 2023.
After buying the Avatr 11 in China, you will receive a free charging pile (with free installation). If it's impossible to install a charging pile in your place, you get a 3,000-kW free charging. Avatr plans to give users access to nearly 200,000 public charging piles from different companies.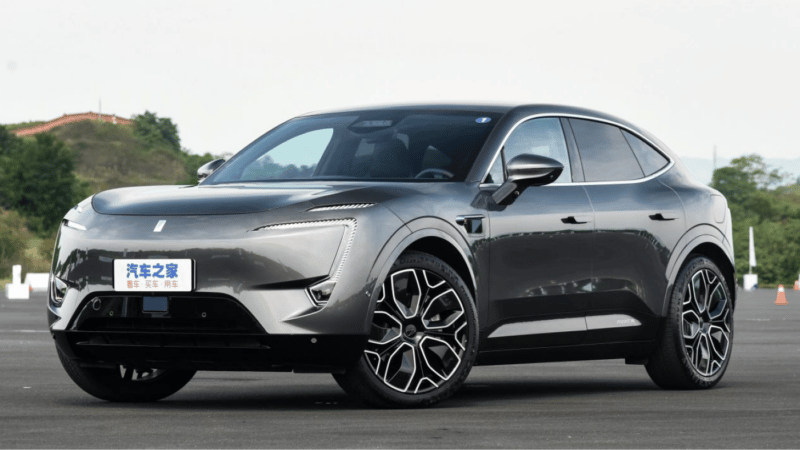 So the Avatr 11 looks like a really strong competitor in a sporty mid-size SUV segment. But it has plenty of competitors in China such as Voyah Free, AITO M5, NIO EC6/ES6, etc. Anyway, we will keep an eye on the Avatr 11, so stay tuned!
Source: Avatr Weibo, Avatr, Autohome