According to data from the Netherlands' Dealers Association (BOVAG), the Shanghai-based EV maker sold only four cars in Holland in February. BOVAG tracks car sales in the country based on insurance registrations. The four vehicles comprise one ET7 sedan and three EL7 (ES7 in China) SUVs.
This is 60% down compared to when Nio registered ten cars last month. Since the company entered the country in October last year, total registrations in the Netherlands reached 101 vehicles.
Nio currently operates four battery swap stations (Nio call them PSS) in the country, with the latest one opened in Utrecht in January. According to the company, Nio House in Rotterdam is supposed to be opened this month, followed by Nio House in Amsterdam, whose opening date wasn't announced yet. Nio also runs a showroom in Zandvoort called Nio Space Mobile.
In China, Nio achieved a 43% increase in vehicle deliveries in February, with 12,157 units delivered, compared to 8,506 units in January. Compared with last year's month, Nio delivered 6,131 units, representing a 50% growth.
The delivery of the 12,157 vehicles included 5,037 SUVs and 7,120 sedans. Nio didn't specify particular model sales, but according to CarNewsChina data, the backbone of the sales is the ET5 mid-size sedan, responsible for approximately 50% of total sales, followed by ES6 and ES7 (EL7 in Europe) SUVs.
As of February 28, 2023, Nio's total vehicle deliveries reached 310,219 EVs.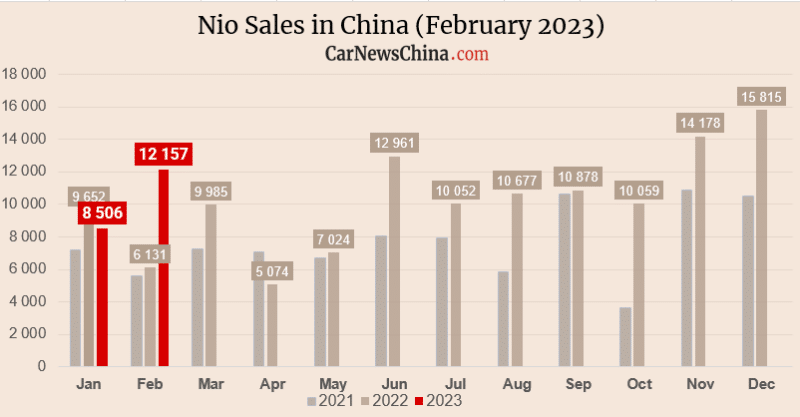 Unlike in China, in Europe, Nio offers a subscription and standard purchase options. The EL7 SUV with a 100 kWh battery starts at 97,900 EUR, and the ET7 100 kWh sedan starts at 93,900 EUR. ET5 mid-size sedan will start delivery later in March, and the 100kWh version starts at 72,900 EUR. All the cars can also be purchased without a battery, reducing the price by 21,000 EUR. If you buy a car with a battery, you can't use the BaaS (Battery as a Service), meaning you can't use battery swap stations.
Aside from the Netherlands, Nio also entered three more EU countries in October – Germany, Sweden, and Denmark. In Germany, Nio registered only one car in January; the February data will be released on March 4 by Federal Motor Transport Authority. Aside from the EU, Nio also sells in Norway, which it entered in 2021. In the nordic country, Nio registered three cars in January.
Nio's European-first brand is coming
Nio has a lot in its pipeline for this year; the company's president Qin Lihong previously confirmed they are working on the entry-level subbrand Alps, which will start deliveries in 2024, and Nio's third brand Firefly which will launch in Europe in Q3 2024 and focus on budget-friendly cars for EU customers. The Alps will focus on EVs for around $30,000, while European Firefly aims for mini vehicles, which might be cheaper.
Other Chinese brands in the Netherlands
BYD sold 85 cars in the Netherlands in February. Deliveries were driven by Atto 3 (Yuan Plus in China), which sold 84 units, and BYD Han sold 1 unit. Hongqi registered 11 cars – all were electric E-HS9 models. Hongqi is nicknamed "Chinese Cadillac" as it is a government brand focusing on luxurious cars for diplomats, officials, and wealthy businessmen. Geely's Lynk&Co sold 1,098 units of its only available model Lynk&Co 01 PHEV.
For comparison, US carmaker Tesla sold 725 cars in February in the Netherlands.
Editor's comment
There might be several reasons for Nio's lukewarm start in Europe. It wasn't actually so bad in December last year when Nio registered 260 and 142 EVs in Germany and Norway, respectively. Over the past weeks, I have noticed rapidly growing negative sentiment towards Chinese brands on many car forums, not just in the Netherlands, blaming China for alleged support of Russia during the Ukraine war. This bias is growing over time and might be the negative factor for the disappointing sales. However, it's not the only one; rising inflation, the high price of cars, and the geopolitical situation also take their toll.