224,502 passenger cars were registered in Germany in September, which is almost the same as in the same month last year.
BEVs had a 14% market share, translating to 31,714 registered units. That is 28.6% less than a year ago. Plugin hybrids (PHEVs) registered 15,383 units, accounting for 7% of the market. That is 45% down from last year, revealed the report published by the German Federal Motor Authority (KBA).
For more context, the market leader, Tesla, registered 4,216 EVs, down 69% from last year.
Among the highest growing brands excelled Geely's Smart with 137% growth year-on-year and 819 registered cars. Smart sells only two vehicles in Germany: compact SUVs Smart #1 and Smart #3. Both cars are all-electric, and the #1 is made in Geely's plant in Xi'an, while the #3 is assembled in Changxing. The pronunciation is "hashtag one" and "hashtag three."
Still, it sold 72% less than the previous month when Smart registered 2,947 EVs in Germany.
SAIC's MG occupies the second spot with 777 registered cars, 55% down from last year and 68% down from the previous month.
The third sport goes to another Geely's protégé Polestar, which registered 506 cars, 32% down from last month and 24% down from the previous year.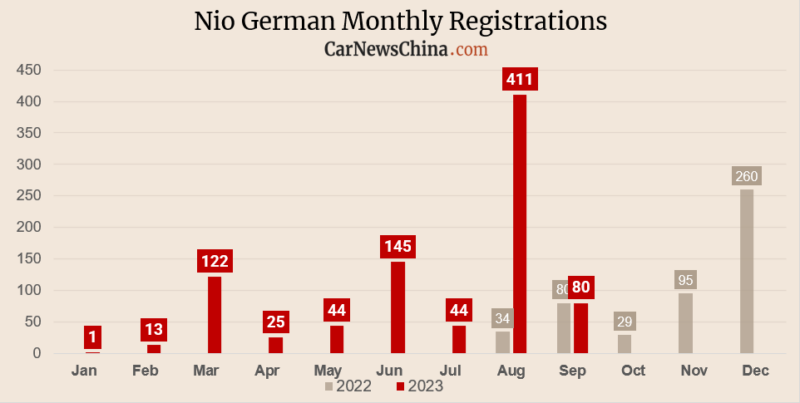 Nio registered only 80 cars, down 80% from the previous month. A year-on-year comparison is not available as Nio officially entered the German market in October last year and started deliveries in November.
In Germany, Nio offers two options – standard car buyout or subscription. The KBAs track new car plate registrations, so they include both of those options. Companies often favor the subscription as a leasing alternative. CarNewsChina talked to a Nio Germany representative and learned the ratio of buyout vs. subscription varies from car to car: The ET7 large sedan has more subscriptions than sales (buyouts), but it is about a 50:50 ratio for the ET5 compact sedan and ES6 compact SUV.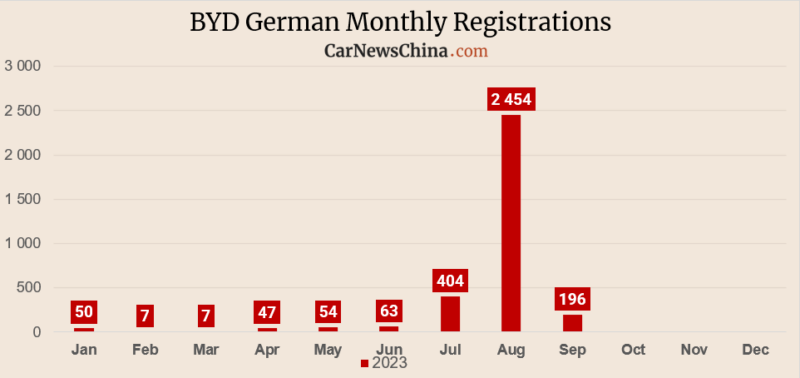 BYD registered 196 EVs, 90% down from last month when they sold over 2000 cars in Germany. The same goes for Great Wall Motors EV brand ORA, which sold 333 units, down 85% from last month.
Editor's comment
On September 1, the German subsidy for EV purchases for companies expired. That's why the August EV registrations and growth were so significant, and September dropped so deep. It also shows which companies rely more on business sales. The subsidy continues until the end of the year only for private buyers.
This month is a significant milestone for Nio, marking one year since its German entry. The company managed to register (sell & subscribe) 1,269 EVs in the country in 12 months since the Berlin launch ceremony. It seems the Hefei-based startup is getting a reality check about how difficult it is to compete in an ultra-conservative market in a luxurious segment. In China, premiums might be already redefined, but it will take some in Germany, where Mercedes and BMW owners won't give up their status symbol anytime soon.
I'm sure all Chinese EV brands are watching Nio's struggle closely in Europe and learning lessons. For free. I hope Nio sits on enough cash to keep pushing into European hearts for the next five years, as earning a premium brand reputation takes a lot of time.